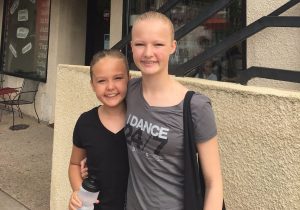 Lantana sisters, Rosie and Ivy Adams, are excelling in the world of ballet.
Rosie, 11, auditioned for the first time this year for the prestigious Joffrey Ballet School. She was accepted to Joffrey's Ballet intensives in New York City, Denver, San Francisco, Miami and Los Angeles.
Ivy, 14, auditioned for several ballet summer intensives this year. She was accepted to Tulsa Ballet, Kirov Academy, Bolshoi Ballet Academy, Gelsey Kirkland Ballet Academy, and all of Joffrey ballet school's summer intensives including the ones in Florence, Italy and Bolshoi, Russia. Ivy was awarded a full scholarship to the Joffrey Ballet School. Ivy was also accepted into the year around training programs at Gelsey Kirkland Ballet and Joffrey Ballet School.
Both Rosie and Ivy attended the Joffrey Ballet School in Denver, Colorado June 20-25.
Rosie will be a 6th grader at Harpool this fall and Ivy will be a freshman at Guyer High School. Both girls train at Denton Ballet Academy under the direction of Eldar Veliev.