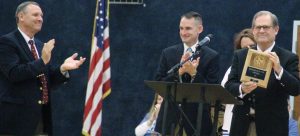 The Texas Association of Private and Parochial Schools (TAPPS), the largest organization that represents private schools in the United States, named Liberty Christian in Argyle its top private school for the fourth year in a row.
Students contend in academic, fine arts, and athletic competitions throughout the year, and based on the total points earned at each state event, Liberty students once again were named overall champions.
"To be the best reflects upon our students who are respectful, obedient, and committed to give their best," said Dr. Rodney Haire, President and Founder.
Liberty is the top school in Class 5A, the largest division of TAPPS based on the number of students in high school, and Liberty is one of the smaller schools in that division.
Just two years into Liberty being founded, the school joined TAPPS in 1985 and had already reached the 2A level.
In the early 2000s, the school competed in Class 4A and won the top school eight out of nine years. Because of Liberty's growth, it moved to 5A in 2010 and was told it would be very difficult to win the championship against the largest schools in TAPPS. Yet in just three years, Liberty won the state championship and has continued to win now for the fourth year consecutively.
"Our students rise to the challenge every year, and I am so proud of them," said Dr. Haire.
He also commended the school's teachers, coaches, and parents who play an important role in educating and preparing students to succeed.
"Our students raise the bar for other schools, which makes everyone work harder to win – every school benefits."
The more than 1,300 students enjoyed a celebration in the school's gym, as principals from every level recognized student achievements.
Early Childhood Principal Anna Joyner said Liberty is so blessed that all students of every grade level are under the same roof.
"Our preschool is so much more than crayons and playdough," she said. "We impress in our students a love for learning and a love for Christ that will carry them through life."
Lower School Principal Claire Batey and Middle School Principal Josh Williams applauded student achievement in competitions from Science Olympiad to band to One Act Play to academic endeavors.
Fine Arts Department Chair and Academic Competition Director Misty Baptiste said students' God-given abilities shine every time they take the stage, in art, band, choir, and theatre.
Liberty's Fine Arts students won the most Fine Arts points in TAPPS this year, winning first at state in the categories of Academic and Speech, and Art, and winning second in Band and Choir, making Liberty the overall Fine Arts champion for 2016.
Athletic Director Zack Vest said Liberty's student athletes contributed the most points they ever had in the school's history toward the overall TAPPS state championship.
Cheerleading, Wrestling, and Girls Basketball won state championships this year, and Boys and Girls Track and Field both won second, along with other sports that also contributed points with strong state showings.
Headmaster Ed Cook concluded the year-end celebration assembly by presenting Dr. Haire the TAPPS championship trophy on behalf of TAPPS.
Mr. Cook said, "Liberty is a well-balanced school, which is displayed in our wins in academics, fine arts, and athletics. Our goal each year is to simply give our best and honor Christ, and we celebrate this win and congratulate our students, teachers, coaches, and parents."
Coach Ken Burroughs, Lower School P.E. teacher and head girls basketball coach, was honored by naming the Competition Gym after him. He has coached 39 years, and the last 10 have been at Liberty, including five girls basketball state championships.
His wife, sons, and grandchildren were there to support and applaud Burroughs on this momentous occasion.
"This is such a huge honor," he said. "My greatest years of coaching have been my last 10 at Liberty, and it is because of the people and the girls I have coached who will forever be in my heart.
"It is such a blessing to be at such an outstanding, Spirit-led school, and I hope the Lord enables me to coach 10 more years."
Campus Pastor Chris Searcy closed the assembly in prayer, giving God all the thanks for every student in the school and the important plan He has for each one of their lives.
The school began a new tradition this year called the Warrior Way Senior Walk. Students from preschool to juniors lined the hallways to cheer on the seniors as they departed for their annual "Senior Splurge," a day for the class to enjoy at Main Event, Hawaiian Falls, and Whirly Ball.
The Warrior Way is seven principles along with Scripture that the school teaches students in every classroom: "Liberty Christian Warriors Embrace God's Truth, Strive for Excellence, Demonstrate Leadership, Value Scholarship, Exhibit Christ-like Character, Pursue Service, and Build Community."