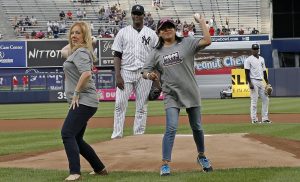 Lewisville-based Cleaning for a Reason was recognized by the New York Yankees organization on June 7 during their eighth annual HOPE Week (Helping Others Persevere & Excel).
In 2006, Debbie Sardone of Flower Mound founded Cleaning for a Reason, an organization designed to ease the burdens of women undergoing cancer treatment by offering complimentary monthly house cleanings.
Since its founding, the organization has helped over 20,000 cancer patients through the help of more than 1,200 professional cleaning companies across the U.S. and parts of Canada.
Each cleaning service volunteers its time and staff to clean two homes per month, at no cost. Once matched with a local cleaning service, each patient is eligible to have her house cleaned once a month for up to four months while she is going through treatment.
Learn more at www.cleaningforareason.org.