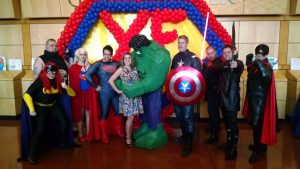 It's time to dust off your cape and tights and spend this Saturday, June 25, being a "superhero" for a good cause.
You're invited to Youth and Family Counseling's 2016 Superhero Soiree, which begins at 6 p.m. and features a night of delicious delicacies from local restaurants, an open bar, deejay, dancing, silent auction items, raffles, door prizes, and more.
The event will be held at MCL Grand Theater, 100 N. Charles Street, Lewisville.
Youth and Family Counseling, a local non-profit organization, focuses on providing low-cost or free counseling services to families of all income levels.
Tickets are $40 for individuals, and $64 per pair. Call 972.724.2005 to reserve your spot, or go to www.youthandfamilycounseling.org.