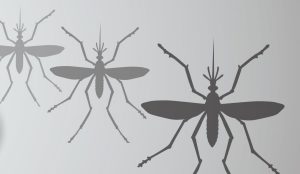 All the rain Denton County has experienced has provided various species of mosquitoes many breeding areas.
Highland Village has begun fogging public trails, wooded areas, and greenbelts to combat the mosquito population as residents enjoy weekend outdoor activities. See a map here.
The fogging takes place during the overnight hours on Thursday and Friday of each week.
The city also has a mosquito surveillance program targeted to capture and test the mosquito species that can transmit the West Nile Virus to humans. Staff will be monitoring mosquito updates for Denton County as well.
Highland Village's Drainage Division has been trapping targeted species of mosquitoes since May 1 and to date has not found any infected with West Nile Virus.
Now more than ever, mosquito control programs are essential because without them the mosquito population would flourish and cause potential health problems, city officials said.
What You Can Do
Here are some tips to help prevent mosquito breeding habitat:
• Empty standing water from idle containers such as flower pots, buckets, cups and dog bowls.
• Clean bird baths regularly.
• Clean roof gutters to eliminate standing water.
• Clean out French drain systems so they can drain correctly or treat with larvacide "dunks" that can be purchased at any local hardware store.
• Repair access points in rain capturing systems or treat with larvacide.
• Apply an insect repellent when outdoors.
• Report dead bird sightings to the City's Drainage Division or Code Enforcement.
• Report standing water or potential mosquito breeding locations with the Eye on Highland Village app on your iPhone or Android smart phones. Just download the app by searching GoRequest in the iPhone Store or Google Play.
As summer progresses more people are enjoying outdoor activities, the City of Highland Village reminds residents to remember the four D's:
• Drain standing water in your yard and neighborhood to cut mosquito breeding sites;
• Dress in long sleeves and pants when you're outside and spray thin clothing with repellent;
• Defend yourself by using an insect repellent that contains DEET, Picaridin, or Oil of Lemon Eucalyptus, and;
• Dusk and Dawn are the times of day you should try to stay indoors as this is when mosquitoes are most active.