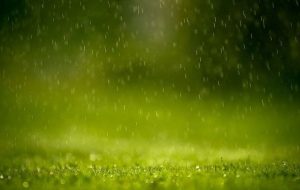 by Janet Laminack, Denton County Extension Agent-Horticulture
It's happened again, a rainy spring! When we get this much rain, we are happy and thankful, because we know what drought feels like. It's nice to have a "little extra in the bank" with our lakes full for a change.
But, it's not all rainbows and jet skis, too much rain can have an adverse effect. If you are like me and have the Blackland prairie gumbo soil, your yard won't drain very quickly. It becomes saturated quickly and water begins to pool. Even after drying out, the ground can still retain a lot of moisture and compact easily if you walk around on it.
Last year, we saw old established trees tumble over, due to saturated soils. There may not be much to be done to prevent this, I saw this happen in unmaintained areas. However, in your own home landscape, this is a good reason to water deeply and infrequently. Watering this way keeps your tree roots growing more deeply and spread farther, which helps to anchor them better.
No matter your soil type, adding organic material is a good idea. If you have that heavy clay, it will loosen it up and improve the drainage. If you have a sandier or loamier soil, it will help retain moisture a little longer. So, what does "adding organic material" mean? For your yard, a mulching lawn mower will return those grass clippings back to the lawn providing valuable organic material and you won't even notice it. Compost is another great example of organic material. You can add a light layer of compost on your lawns in the spring. About ¼ inch is what you want to do on turfgrass. But in your landscaped area, 1-2 inches of compost is ideal.
Mulch is a layer of material that you add to the top of your soil to help retain moisture. Mulch comes in many forms such as gravel, plastic, wine corks (those Master Gardeners like their wine), pine needles or pecan hulls. Those last two are examples of organic mulches. My favorite organic mulch is chipped wood because it is plentiful, available and affordable. The City of Denton has nice mulch available in bulk. But you can also find all sorts of mulch in bags (which might be easier to manage) in garden centers and nurseries everywhere. An organic mulch will break down over time, which means you will need to replenish it, but it will add organic material to your soil. Adding organic material will also feed all those beneficial soil microorganisms and even earthworms.
Mulch is also helpful in times like these to help cut down on plant disease. In rainy weather, we see more fungal disease problems. The reason is that these fungi put out spores that get bounced around and splashed all over in rainy (or overhead irrigation) situations. Covering the soil with a mulch can help cut down on the disease splashing from the soil to the leaves.
And lastly, all this rain means don't run your sprinkler system! We have irrigation to supplement our natural rainfall. Our goal should be to use plants that will thrive on our natural rainfall without needing irrigation. It's a lofty goal but one that even in rainy seasons we should bear in mind. Our population is growing exponentially in this area, our lakes are growing smaller due to sedimentation and we are going to have a water problem, even with a couple of rainy springs.
We are here to help with your plant/lawn/landscape questions, give us a call at 940.349.2892 or email [email protected]. You can also follow us on Facebook to find out about all our events; we are Denton County Master Gardeners and Denton County Texas A&M AgriLife Extension.