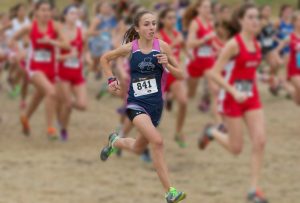 Winning a state championship at the high school level is a remarkable accomplishment.
There is only one athlete or team at the end of each season claiming that distinction. It is reserved for the best of the best.
A student winning two or three state championships in high school sports is almost unheard of in Texas.
Liberty Christian student Elizabeth Reneau has won a total of six; and, she's only a sophomore.
The LCS distance runner from Argyle has won two cross country state championships and recently won both the 1,600 meter and 3,200 meter events at the TAPPS State Track and Field Meet; for the second straight season.
Liberty Christian distance coach Tyler Curbo said what Reneau has accomplished makes her school and community extremely proud.
"Winning all six state titles is extremely difficult now," Curbo said. "The improvement in quality distance running in TAPPS (especially in 5A) has increased significantly [over] the past decade. Historically, I am not sure if anyone in the highest division in TAPPS has ever won six straight distance championships. And, then on top of that, to win as a freshman and sophomore is a tremendous accomplishment.
"She has had to show up at each race and handle the pressure of being the favorite knowing there are talented runners that have the potential to beat her."
Reneau, 16, said winning two state championships in track and field this season was a great accomplishment for her. She was quick to spread her gratitude around.
"I feel really, really blessed," Reneau said. "To be among such great competitors, I thank my coaches and I thank God just for letting me compete. I am really blessed to win both state titles. I had a good idea that I would probably win the two-mile. I knew most of the girl's times in my class coming into it.
"The year before, I won by two seconds against the same girl from Awty (Houston Awty International), so I knew it was going to be tight on that one."
Reneau defeated Amelia Ward by less than one-second to win the Gold in the 1,600 event.
She said that her love for the sport of distance runner did not start that long ago.
"I was in middle school– in the seventh grade– and I switched from soccer to track," Reneau said. "I knew I liked to run. I had my first track meet and from there I did pretty well. Now, I need running in my life. It is such a great thing for me and such a great outlet. I became very passionate about it, especially in high school, because the bar is raised in the level of competition."
Reneau said that this year's state championships were amazing for her. However, she said that her proudest moment as a runner came last season at the state championship.
"I would say my freshman year mile [race] at state was the most memorable moment for me," Reneau said. "I was new to the whole high school competition. She (Ward) was ahead of me in the mile and I passed her in the last 200 [meters]. She was quite a bit ahead of me, so that was probably my most memorable moment."
Reneau is ranked academically second in her class and has a twin brother, Matthew, who is currently ranked first, so competition comes naturally for her.
Reneau trains by running 45- to 50-miles a week for cross country and 40-miles a week for track and field.
The Liberty student said winning a state championship, regardless of whether it is cross country or track, gives her a very special feeling.
"I feel very accomplished afterward," Reneau said. "I feel like all of my hard work has paid off. Sometimes, track can be a bumpy ride, so– at the end– it is super and fulfilling to win a championship."
The Liberty Christian girl's team finished second at state this year, thanks in no small part to Reneau's double gold performance. Curbo said for next year, his goals for Reneau are pretty straightforward.
"My expectations for Elizabeth are for her to continue to mature as a runner and most importantly as a person," he said. "We continuously preach that success in races always follows consistent training, which requires dedication, perseverance and a ton of hard work. With a lot of hard work and running a lot of miles, Elizabeth will continue to improve and, hopefully, enjoy a few more championships."