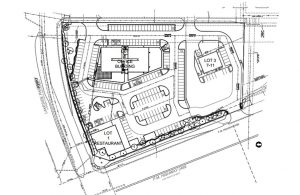 Flower Mound Planning & Zoning Commissioners sped through their meeting on June 13 only slowing down for a gas station and too few parking spaces in The River Walk.
The commission guaranteed there will be no gas shortage along FM 2499 by approving both a replat and site plan for a 7-Eleven convenience store with five gas pumps at Lakeside Parkway.
The replat of a 4-acre property at the southeast corner of FM 2499 and Lakeside Parkway into three lots was unanimously approved, as was the site plan for the one-acre 7-Eleven on Lot 3, which will be Phase I.
The second phase of the development is a proposed two-story office building and the third phase is a restaurant at the hard corner of FM 2499 and Lakeside.
While the concern of filling-up their gas tanks was eliminated, the commissioners echoed the town staff's concern about parking capacity for 225 apartments associated with seven buildings opposite the existing homes in The Forums and The Chapel at the bottom of the riverwalk.
The town requirement is for 271 total spaces. The plan includes 78 attached garages and 146 interior surface spaces for a total of 224 on-site spaces; that's 47 less than the total needed. To compensate, 80 peripheral on-street spaces have been designated for both residential and customer occupancy.
G&A Consultants Project Manager Scott Minnis said there are other parking options within The River Walk to use. Among the locations targeted for use would be: those located on the west side at the top of the riverwalk near the hotel; west of the amphitheater; and, west of restaurant row.
He added that the total number of required parking spaces has remained the same, even though there's been a decrease in needed usage.
"The concept of The River Walk was not to have parking on every use on the site," said Minnis.
Commissioners questioned how customers frequenting the first-floor retail stores or restaurants would impact second-floor residents' parking space access. They also pointed out that residents may be a more than one-car families.
"At least one car will be on the street," said Commissioner Al Linley. "This is going to be a core of the community and it needs not to be a problem for the area."
Commissioner Brad Ruthrauff asked about parking needs for resident's visitors and out-of-town relatives.
"There will be a lot of people coming in from outside Flower Mound," he said. "This is going to be a centerpiece, and we've given them no space."
The commissioners suggested that project management meet with town staff to find a solution to the issue.
"This parking issue is a disaster," said Commissioner Mike McCall.
The vote was unanimous to table the item until the next P&Z meeting.