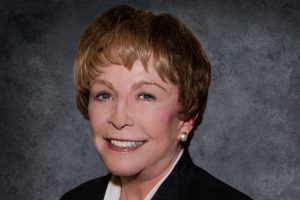 June 13: After Council Meeting, Workshop on "Setbacks" for New Homes
Previously, residential subdivisions were designed with straight streets and every home was set back an exact equal distance from the street in front.  This could result in a "row housing" look.  But recent Municipal Planners have encouraged residential streets with gentle curves and a variety of setback distances allowed from the edge of the street pavement.  This design style not only gives a softer, more flexible look to residential streets, it also somewhat discourages the "hot-rodder" who wants to speed recklessly on a straight-away route through a family neighborhood with children playing outside.
Another fairly recent Municipal Planner tenet is to encourage residential cul-de-sacs.  Short cul-de-sacs with only 6 to 8 homes can provide a more intimate neighborly feel.  It's easier to "get to know" 6-8 close neighbors on a short cul-de-sac than 20-30 homeowners on a long straight street.  And, short cul-de-sacs definitely discourage use by vehicle speeders just cruising through a residential neighborhood.
Town residents are welcome to come and give input to Council on the subject of setback distances for homes – including front, rear and side setbacks from residential lot property boundary lines.  Side and rear setbacks are the distances most likely to affect neighboring homeowners.
Traditional Vacation Schedule: Copper Canyon Council will not meet in July
Resident Issues with Frontier Communications
Tom Yetter on Estates Drive was the first Town Resident to alert us to interrupted internet and telephone service with Frontier Communications.  Resident June Tyler then emailed that she had been without telephone service for a week.  Frontier would schedule repairmen – who simply did not show up.  June is a CPA handling income tax returns for clients.  She said the lack of telephone service was hurting her business.
If you are experiencing difficulties with connections or repair services with Frontier Communications, please contact Town Hall with the details.  (940-251-2677 Ext 0)
Double Oak's Mayor Mike Donnelly has received similar complaints from his town's residents.   Upon investigation, Mayor Donnelly found the problems with Frontier Communications were not limited to our immediate area of North Texas, but also exist in other states such as California.  He placed an Open Letter to Frontier Communications on The Cross Timbers Gazette website.
As a Denco 911 Board Member, I asked Executive Director Mark Payne if Denco 911 services were being negatively affected by the change in landline telephone ownership from Verizon to Frontier.  Payne said there were no negative repercussions to date.  However, 85-87% of current Denton County 911 calls are initiated from wireless cell phones and not landlines.
Copper Canyon Seniors Emily Brown, Rebecca Powell, and Brooke Skidmore each awarded a $1,000 College Scholarship for Tuition!
These three young women are not only intellectually bright but excel in other areas of music, sports, and extracurricular activities!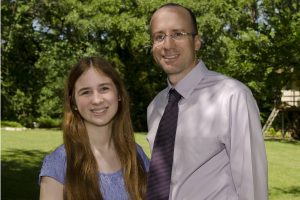 Emily Brown is the daughter of Dr. Kirk and Julie Brown on Deer Path in the Hidden Creek Subdivision.  Emily said her father, a dental endodontist, had been her inspiration.  Emily is also First Chair Trumpet for the outstanding Marcus High School Band! She will be attending Brigham Young University in Utah on an academic scholarship in the fall and majoring in either aerospace engineering or biomedical engineering.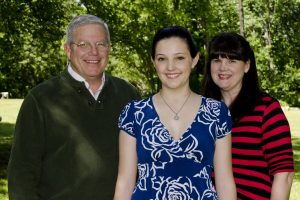 Rebecca Powell is the daughter of Mark and Wendy Powell on Estates Drive and a graduate of Coram Deo Academy.  She has been the Soprano Chair of the Choir and Team Captain for Debate for two years.  Becky's ambition is to be the CEO of a non-profit organization that helps victims of human trafficking resume a normal life.  She is also a scholarship recipient at Groves City College.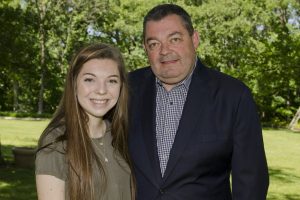 Brooke Skidmore is the daughter of Scott and Dr. Cindy Skidmore on Jernigan Road.  Brooke said her mother, a veterinarian, had been her inspiration – and she had "watched her mother perform amazing surgeries."  Brooke was also a valued player on Marcus High School's Varsity Soccer Team.  She wants to go into orthopedic medicine as a surgeon or physician's assistant and has been accepted at the University of Texas at Austin in that capacity.
Copper Canyon had other outstanding seniors who did not apply for scholarships.  Two Copper Canyon seniors, one who played on Marcus High School's boys Marauder baseball team and another who played on the boys Marauder basketball team, have received sports scholarships to play in college.
Alex Albright has received an appointment to West Point Military Academy and will play baseball for Army as a center fielder!  Alex is the son of Leonard and Lisa Alexander of Hillside Drive. Brandon Smithey received a scholarship to Pitt University in Kansas and will play basketball there!  Brandon is the son of   Rodney and Lucy Smithey in the Estates of Copper Canyon.
2016 Copper Canyon Scholarship Donors
All scholarship awards were provided by donations. The Town cannot legally give monetary donations to individuals from property taxes or other Town revenues.
Scholarship funding for 2016 was provided by donations from current and former Council Members Steve Hill, Charlie Nicholas, Dave Svatik and wife Dale Svatik, Valerie Cannaday, Bill Castleman, Emil and Sue Tejml – and longtime residents Annell and Roy Bradford, and a kind and generous resident Donor who prefers to remain anonymous.
Additional contributors are Brown and Hofmeister law firm through our Town Attorney Terry Welch; Halff Associates, our Town engineering firm, through consultant Jim Carter; and Republic Services, the Town's recycle and trash collector for decades, through their longtime Municipal Services Manager Jeri Harwell!
The five 2016 Scholarship Judges were chaired by Town resident Karla Hohenberger of Landseer Drive
Other Copper Canyon resident judges were Terry Hoover from Hillside Drive and our Denton County Sheriff Will Travis from Orchid Hill Lane.  Non Copper Canyon judges were Denton County Commissioner Andy Eads and Lewisville ISD Board Member Kristi Hassett, both from Flower Mound.
19 of the 21 graduates this year attended LISD's Marcus High School.   There were no Copper Canyon seniors this spring from Denton ISD's Guyer High School, Liberty Christian School, nor homeschooled – that we could ascertain.
However, identifying all Copper Canyon high school seniors graduating in a given year is always dicey.  For privacy reasons, schools are reluctant to provide contact information for graduating seniors.  And if the graduate's last name is different from the step-parent or grandparent who owns the home where the student lives, we may not be able to timely notify them of the Senior Celebration Event or the scholarship applications.
The judging process is always "blind."  Judges did not know the identity of the applicants, their home address, or their parents' names.  Student scholarship applicants did not know the identity of the judges.
Graduating Senior Celebration Event enjoys Beautiful Weather!
Copper Canyon had a record 21 graduating seniors this spring!  Each senior received a full size Texas flag with a certificate in their name that the flag had actually flown over our State Capitol in Austin.  The certificates were provided courtesy of our Texas State Legislator Tan Parker.  Each senior, who didn't receive a scholarship award, was also given a $100 gift from donors towards their college tuition
Any senior who was unable to attend the Celebration can receive their flag and $100 donation check at Town Hall.  (Please bring your driver's license for identification.)
Copper Canyon's Hostess Committee, chaired by veteran Pris Johnson, did their usual awesome performance of providing homemade hors d'oeuvres and desserts!  Many thanks to Mary Alexander,  Amy Burwell,  Kaye Hill, Karla Hohenberger, Mary Maddoux, Art Morales,  Andre and Patti Nicholas, Carol Owens, Tina Sommers, and Donna Yetter!
Fannie Mae completed clearance of 648 Chinn Chapel by mid-May
What a welcome sight to see the debris and abandoned vehicles cleared from this 3.5 acre site!  Fannie Mae foreclosed on 2.5096 acres and Federal National Mortgage foreclosed on 1.0 acres facing Chinn Chapel Road. The two areas were listed for sale in May!  (They may possibly be purchased in two individual packages or in one 3.5096 acre package.)
Did You Know?
31% of All Food Products in the U.S. End up in the Trash! A Whopping 133 Billion Pounds Every Year!
Reducing losses by 15% would be the equivalent of producing enough food for 25 million Americans each year.  We could get more food to the hungry in America, whether through volunteer food pantries or free school lunches.  Food in landfills also releases a substantial amount of methane, a potent greenhouse gas.
Cutting food waste also contributes to the bottom line of families, school cafeterias, restaurants and fast food businesses, hospitals, nursing homes, military bases, even local jails and state prisons.  Ways to save include:  buying food closer in time to its predicted use, so it doesn't spoil;  training kitchen staff to reduce waste; using scraps as animal feed;  donating leftovers; even composting leftovers for commercial food production and individual gardens.  No need to worry about liability.  A law shields donors who give food to nonprofits such as soup kitchens.  For more information on how you can trim food waste, visit Kiplinger.com/letterlinks/foodwaste.
Trees Reduce the Urban "Heat Island" Effect, Which Can Affect Our Environment and Even Weather Events!

Heat is absorbed and amplified from our impervious urban surfaces – roads, parking lots, and buildings.  "The heat index of an area can be twice as great as the impact of greenhouse gases alone." – gases usually from the exhausts of vehicle engines. (Brian Stone, associate professor at the School of City and Regional Planning at Georgia Tech.)
Trees provide a: valuable "carbon sink"; 24/7 cleaning of our air; filtering of our water; cooling of our homes and buildings; shading our cars and sidewalks; beautifying our surroundings; and for some individuals, just a genuine appreciation of trees' natural presence in our usually concrete, hard surface, urban surroundings.  If you wish, plant and nurture a tree to increase our "urban canopy" in North Texas.