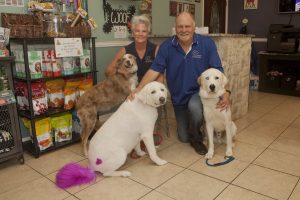 "Dogs aren't just pets, they're family," said Canine Courtyard's Debi LaVoie, co-owner with her husband, Paul.
"Every dog has a unique and distinct personality, a quality that I've fallen in love with. After years of harboring a passion for training and loving any dog, I had the privilege to come in contact with, we purchased Canine Courtyard; this is a lifelong dream."
The LaVoies, who live in Lantana, purchased the boarding facility in 2012 and have spent four years cleaning, replacing or repairing every part of the business. Since its launch, Canine Courtyard continues to receive rave reviews. Canine Courtyard was voted "Best of Flower Mound" and "Best of Denton County" for boarding and pet spa.
Their day care offers supervised play in five outdoor and three air-conditioned indoor play areas.
"We have poured ourselves into creating a facility where loving, safe, clean and professional dog care is a constant," said Debi. "The dogs love coming here and that's the true sign of success to us."
Canine Courtyard provides grooming services and was the People's Choice Award Winner for "Best Grooming in Flower Mound." Private lessons and classes with a professional trainer are offered as well.
They also trained a world class staff, instilling their own personal standards of care to every aspect of their boarding, training and grooming facility. It is not uncommon to see a Canine Courtyard team member sitting on the floor, petting and hand feeding a dog who is feeling anxious about being away from home.
The LaVoies have an open-door policy and actually encourage dog owners to come in for a tour. They also want the dogs to spend a few hours to meet the staff, before they ever come in for boarding.
"Everything here is designed to make dogs feel at home, especially the shy, or impatient dogs," said Paul LaVoie.
Canine Courtyard is located in Flower Mound at 3209 Justin Rd. [FM 407] next to Raising Canes Chicken, across from Applebees.
For more information and rates, contact them at: 972-724-2157 or www.CanineCourtyard.com.