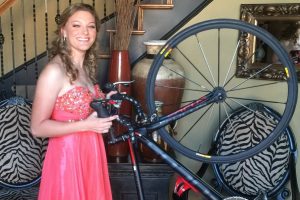 Payten Maness has always had a passion for the sport of cycling. Recently, that passion paid off, literally, for her in a big way.
The Flower Mound teen signed a professional cycling contract with ISCorp Cycling presented by Smart Choice MRI and will be traveling with the USA Cycling team to compete in Europe and throughout the United States.
Maness, 17, said it came about at a race last year, because of a new friendship she formed with two of her competitors.
"I met a couple of the girls that were on the team at junior nationals," Maness said. "We ended up sharing a condo together. They were looking for some more teammates, so they talked to the coach about me– and a couple of my buddies– and they decided to bring me on the team."
Maness said the professional contract is performance-based.
"When we win races, and we do what we're supposed to do, we get equal cuts of the winnings," Maness said.
Although she's not one to boast, Maness has plenty of accomplishments to brag about.
She was the Texas Cat 4 Cyclocross Champ, Texas 17-18 Cyclocross Champ, Texas State Champ 17-18 Criterium, finished third in the USA Cycling Nationals Road Race 17-18, was the Erpe-Mere Belgium winner and the Texas State Champion 17-18 Road Race in 2015 alone.
"It's really cool, because they are a strong team and they are well balanced," Maness said. "It is really neat to have such a strong team behind me and to race with."
Maness, a former Flower Mound High School student, is a junior at Grapevine-Colleyville's iUniversity Prep, which allows her to study while she travels the globe.
"She does her homework in the van while they are heading to a race," said her father, Scott Maness. "She was supposed to travel to Belgium with three other junior women last month but the trip was cancelled after the terrorist attacks."
Maness' passion for the sport began at a young age while actually training for a different type of competition.
"I started doing triathlons at first when I was six," Maness said. In fact, she was a state champion triathlete in her freshman year at FMHS.
"My dad was doing triathlons, so I wanted to do them. I ended up getting stress fractures in my hips. I tried to get back into training for triathlons, but I couldn't, because it was just too painful. So I switched to just cycling."
In her down time she likes to unwind with a good book, hang out with her friends, and help children with special needs.
Maness said her ambition with the sport of cycling has not ended yet and said she does have an ultimate goal.
"I want to take it as far as I can," Maness said. "I would like to eventually join a European pro team."
Visit www.paytenmaness.com for more information on the local cyclist.