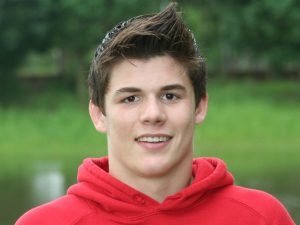 For some students, variety is not always a desired quality.
For some students, a singular passion develops at such an early age that interest in everything else seems to take a back seat to two things— their school work, and near constant pursuit of that passion.
And for Argyle High School senior, Chase Roth, that passion is the sport of wrestling.
"My dad wrestled in Ohio," Roth said. "I used to do football, but there was something about it—I just didn't like it as much as wrestling. I got into wrestling because of football, when one of my teammates put me in a cradle and I thought, 'wow, that was kind of crazy."
The Argyle senior, who has been wrestling since the second grade, has won an almost unheard of three consecutive UIL state championships in the sport as well as countless of other tournaments.
Roth said that one of the things that most appeals to him about wrestling is the sport's individual nature.
"I like that, because you can't blame anybody for your loss," Roth said. "It's all on you, and you have to train for yourself to get where you want to be."
Roth won a prep state championship one time in addition to his three UIL titles and has won multiple championships in both Greco Roman and Freestyle tournaments.
The Argyle wrestler said his passion for the sport is almost beyond words.
"It's pretty much everything to me," Roth said. "It's what I live for. I practice five times a week and on Sundays. The battle is what appeals to me. You have two wrestlers that are both really good, and they are just battling against each other, move, after move after move…I don't know. It's just awesome."
Roth does also enjoy running, mountain biking, and lifting weights, but said that it is wrestling that is still the most important thing in his life.
"It's kept me in school," Roth said. "It's kept me in school and made me keep my grades up."
Roth is headed to Northeast Oklahoma on a wrestling scholarship in the fall.
Roth's Favorites
Favorite Athlete: Conor McGregor
Favorite Sports Team: Oklahoma State Wrestling
Favorite Food: Cheeseburgers
Favorite Movie: Sahara
Favorite TV Show: Dual Survival
Favorite Musical Group or Performer: Aer