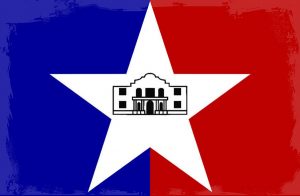 We hadn't been on a road trip in a very long time.  So when some friends invited us to accompany them to San Anton we said that sounded fine!  These folks had been to our destination several times before.  So they made a reservation at Omni La Mansion del Rio for four.  Balconies overlooked The Walkway below while teaming tourists put on quite a show.  It had been twenty-five years since our last visit there!  The new looks and changes gave us pause to stop and stare.
But backing up a little bit, to include the route we took, we stopped at Buc-ee's Truck Stop; we had to take a look.  A little more than half way to where we were to stay, it was time to use the restrooms before going on our way.  This gave us time to oooh and ahhh over aisles and aisles of wares.  And to label Buc-ee's as a "Truck Stop" is totally unfair.  If you've never experienced a Buc-ee's you don't know what you've lost!  Everything really is bigger in Texas and this place just proves that thought.
Shortly after checking in we took the River Walk ride.  This is where boats filled with folks got to float along while listening to a guide.  He pointed out the important sights for two and one half miles…a fine waterway trip well worth our while.
There are gobs of restaurant and bars that line the river's banks.  Good thing Mike and Jackie knew the ones that were top rank.  The meals we had, usually brunch and dinner, never disappointed, each one was a winner.
To get to the top of the Tower of the Americas we took a seven hundred and fifty foot ride.  From there you could see from every side a breathtaking view, both far and wide.  The restaurant revolved at a slow even pace, so your camera could capture San Antonio's face.
This thing that was called "A Get On and Get Off" was a pass everlasting to take you to stuff.  These buses kept busy circling downtown, stopping at tourists' traps as they made their rounds.  The Guinness Book of World Records was on our list and the Wax Museum supplied an eerie twist.  The Pearl Brewery District received a lot of hype but did it live up to its reputation?…well, not quite.
El Mercado, the Mexican Market, gives the feel of the real deal.  Located in downtown San Antonio, it's loaded with south of the border food, kiosks, booths, stores and Mexican items galore.
We made an almost fatal mistake when The Mirror Maze turned out to be real and not fake.  We got so confused by the enhanced 3-D we ended up where we shouldn't be.  Not being able to find the right trail, we wandered around on a six-year old's coat tail.  He led us straight to the exit door, we thanked him profusely and then thanked him more.  (Little smart aleck).
A lighted horse-drawn carriage jaunt was just what we needed after our stroll on the River Front.  It could have taken a little more time but a buck a person a minute could buy a really nice bottle of wine.
The paths that wind along The Walk are pretty narrow and danger fraught.  It wouldn't take but a gentle nudge to push a person over the edge.  Despite this ever looming threat very few people have gotten wet!  The water's only six feet down so chances are one wouldn't drown.
Now every trip for which you pack there will always be something you lack.  So just so we could say we did we hit the CVS in San Antone's neighborhood.  We were ready to go having done that except for the Alamo and all its attacks.  We wound through the ruins and read all the plaques which listed dead soldiers and presented the facts.
Biding goodbye to the city of fun we turned on the iPad and headed into the sun.  A wave of excitement washed over the car as we realized that Buc-ee's wasn't too far!
One of the best things about our whole tour
Was the company we kept and that's for sure!
Read Cindy's column each month in The Cross Timbers Gazette newspaper.