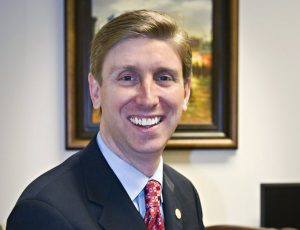 With the summer season upon us, children are already daydreaming of days filled with summer fun, whether at the beach, lake or swimming in the backyard pool. My wife and I look forward to this time of year as it provides great opportunities for us to spend quality time with our two teenage daughters.  Sadly, we far too often hear how an outing around water has turned tragic especially for children.   As my family looks ahead to cooling off this summer, as a father and lawmaker I felt compelled to bring attention to this critical issue that knows no socio-economic, race, educational or parental boundaries.
According to the U.S. Centers for Disease Control and Prevention, an average of 3,536 fatal unintentional drownings occur annually in the United States.  That breaks down to ten drownings per day.  Perhaps the most shocking statistics center on a very vulnerable swimming population, our children. More accidental deaths for children between one and four years old occur from drowning, more than any other cause.   In 2004, Safe Kids Worldwide released a study stating that 88 percent of all children who drown are actually under some kind of supervision.   In our state, a statistic that I am not proud of is Texas ranks second in drowning deaths – and like you, I want to see that change.
With Lake Lewisville and Lake Grapevine both located close to home, my two teenage daughters always enjoy spending time out on the lake but this heightens my awareness of the need to be vigilant. As a state lawmaker, I have read many accounts of accidental drowning in the media and through public testimony and have studied endless data on many types of water accidents.  I was moved after this type of tragedy struck in our hometown as I approached my first term in office in 2006.  The senseless, heartbreaking loss of an area teen led me to author several state laws that overhaul how we approach lake recreational safety and in 2014, the Texas Parks and Wildlife Department implemented the last piece of my lake recreational safety bill package to produce a short public service video. This video is now shown in all driver education classes and emphasizes the importance of being safe on the water. Whether you are new to the water or not, I highly encourage you to watch this powerful message if you plan to spend time out on the water this summer at http://www.tpwd.state.tx.us/fishboat/boat/safety/.
Prevention is crucial no matter where you swim. Three-quarters of all fatal drowning accidents occur within less than 5 minutes. Because drowning happens very quickly and quietly, a responsible adult should always be designated to specifically watching children and inexperienced swimmers in or around water and not be distracted by other activities, even if a lifeguard is present. By taking part in formal swimming lessons, children will also learn valuable swimming and safety skills that will be helpful as they continue to grow up.  There are many swim lesson options in our area communities including private in-home lessons, swim centers, community pools, and programs for low-income families that include options for swimmers of all levels and abilities.   Additionally, learning CPR can save lives in many emergency circumstances and improves outcomes for drowning victims when their lives are hanging in the balance.
Over the years, I have made water safety a high priority as a state lawmaker and a father. Our lakes, rivers and coastal waters are wonderful opportunities for us to spend quality time with our friends and family during the summer so long as we are safe in our actions. I urge each of you to join me in doing two things this summer: thoroughly enjoy our many public waters across this state and take the necessary steps to return home safely at the end of the day.
As always, it is an honor to serve you in the Texas House of Representatives, and I welcome your feedback on this and any other critical state issues.  If you would like to share a thought with me, please feel free to contact me at my Capitol office at 512.463.0688 or by e-mail at [email protected].