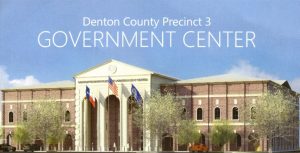 The new Denton County Precinct 3 Government Building in Lewisville will officially open to the public on Tuesday, May 31.
A ribbon-cutting ceremony is set for Friday, June 3, at 3 p.m., at the building, located at 400 N. Valley Parkway.
The two-story, 41,934-square-foot facility will accommodate the County Clerk, Tax Office, Constable, Justice of the Peace, Community Supervision and Corrections, Veterans Services, Department of Public Safety, and Precinct 3 County Commissioner Bobbie Mitchell's office.
The building features a grand front porch wrapped in cast stone, arched windows along a colonnade, and it is capped with a bronze-colored standing-seam metal roof.
The interior of the new Government Center will combine classic finishes, including natural stone, with detailed metal railings and rich wood tones.
The project is registered for LEED, Leadership in Energy and Environmental Design, and is attempting to achieve LEED Silver Certification
Denton County Precinct 3 encompasses Lewisville, Highland Village, Flower Mound, Lake Dallas and Hickory Creek.