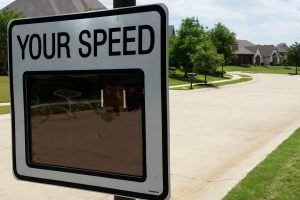 You can call them a sign of the times. As more people move to Lantana, there are more cars on the road and more gripes about traffic.
"We're getting more and more neighborhoods that are complaining about speed issues," said Lantana General Manager Kevin Mercer. "We've had complaints in Bandera, Magnolia, on Golf Club Drive and anywhere you've got a long stretch of street."
Lantana officials recently approved purchasing more radar feedback signs to deter lead-foots.
The two fresh water district boards at their meetings in April agreed to acquire two portable battery-operated radar feedback signs at a total cost of $7,170 to be split between the districts.
The digital signs display drivers' speeds and can collect data. The signs are mounted below existing speed limit signs and can be moved to different locations as needed.
"Both of these have downloadable data that we can retrieve. These only weigh 20 pounds each and are very easy to move," said Mercer.
Lantana currently has six speed feedback signs; two on Lantana Trail, a pair on Stacee Lane and two deployed to residential streets where speeding has been an issue.
Is speeding actually a problem? Mercer said data from a feedback sign currently operational in the Bellaire neighborhood on Canyon Crossing shows most people comply with the speed limit.
"Although the average speed of vehicles is below the posted speed limit, we do have the occasional passerby that blows through there going 35."
The two fresh water supply district boards have explored other options, such as speed tables, to calm traffic, but determined that enforcement and awareness were the most effective options.
The Denton County Sheriff's office has had more of a presence recently, thanks to the efforts of Sheriff Will Travis.
"When I get calls or emails from citizens out here saying that we have a problem in a particular area we will dispatch our traffic unit out there to do a little bit of selective enforcement," said Assistant Chief Deputy Randy Plemons.
In 2012, the sheriff's department issued 156 traffic citations in Lantana. That number jumped to 268 in 2013, 322 in 2014, and 421 last year.
"From the standpoint of the sheriff's office being out and conducting enforcement in Lantana, we are there," said Plemons.
Residents can call the sheriff's department's non-emergency phone number to report speeding issues at 940-349-1600.