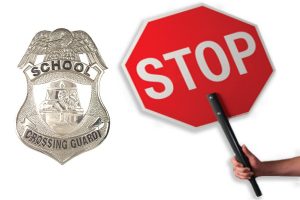 The Denton County Sheriff's Department is hiring a second crossing guard for Lantana.
The two fresh water supply district boards budgeted for two crossing guards last fall. One at Stacee Lane and Lantana Trail as well as a crossing guard at Tanner Parkway and Lantana Trail for Adkins Elementary School students.
Since there are currently no students walking to Adkins, the Sheriff's Department is going to use the second position to back up the crossing guard at Stacee Lane, according to Lantana General Manager Kevin Mercer.
"They are going to try to fill that position so in the event the crossing guard is sick or has an accident we've got a backup," said Mercer.
That's what happened this year as Stacee Lane crossing guard Steve Clark missed the second half of this school year due to an injury. The Denton County Sheriff's office replaced him with a deputy.
If you are retired, a stay at home mom or dad, or just someone with some free time on a regular basis who would like to help out in their community and get paid in the process, click here to apply or call 940-349-3080. The start date for the new position is this August.