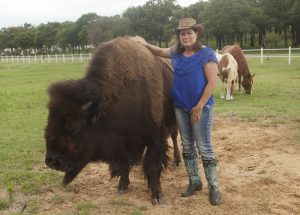 Drivers passing through the Flower Mound intersection of Shiloh Rd. and FM 1171 might see a new addition to the pasture kitty-corner across from the Fire Station—a lovely eight-year old, 1,000-pound American Bison (Bison bison) cow named Bullet.
"I had no plans of bringing the Old West to my simple little farm," said property owner Mari Beth Connor of Flower Mound.
Her 60-acres are no "simple little farm;" it's a haven for all kinds of animals—and an occasional human—in need. Over the 15-years she's owned the property, she has sheltered or adopted all sorts of animals, including two of her current residents, Cowgirl (aka Babydoll) the Holstein and Cowboy (aka Rowdy) the Jersey. The dairy farm rejects were both discarded at birth.
"I bottle-fed Cowgirl myself; a neighbor did Cowboy," said Connor. "Just before he was to be taken to the sale barn for slaughter, I paid a hefty price to rescue him. I wanted to have my cows to bring awareness of what dairies do. Cowboy was supposed to be veal!  This is my way to give back to those in need."
She and her husband, Wayne, were watching the evening news and it featured an American Bison just a few miles away in Argyle, which was in need of a new home. Bullet-the-Bison was on television, not only because she needed a new home, but because she also was portrayed as a house-broken pet allowed to roam free inside the owner's home.
Wayne declared: "'Oh, my gosh … it's right by us; I want it!'"
Connor looked at her husband in disbelief.
"We don't do Buffalo," she said.
He said: "I might."
She said, "No, we don't do Buffalo!"
And, actually, she's right. North America only has Bison bison; the two species of Buffalo are only in Africa and Asia.
After going to her Pilates class the following day, Connor decided to visit the owner and warn her that Wayne might be going to come visit and that they: "Do Not Do Buffalo!"
When she reached the home of Karen Schoeve in Argyle, Connor saw that the two-acre property wasn't really large enough to accommodate the 20 horses she'd had there, let alone Bullet.
Schoeve had moved all but two of the horses to a large pasture down the road. There was nothing but deep, black mud in the "pasture;" no trees, no grass—nothing. The only grass was in the tiny back yard; and, that was filled with construction debris from work being done inside.
"The back door had been left open and that's how Bullet had wandered inside," explained Connor. "I asked if I could see this Buffalo that was being re-homed; for a fee, of course. She led me through the home and I could see her in the back yard grazing on the green grass around this disaster of a back yard. We went out and she called her name. Bullet came over immediately and I knew right away she liked me."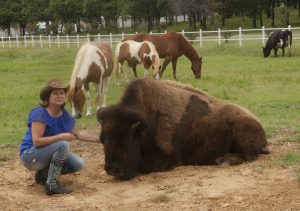 Bullet followed Connor around like a very large dog. When Connor sat down in a lawn chair, Bullet stayed next to her; licking her and trying to "groom" her. Eventually, Bullet settled down next to Connor and fell asleep. That did it. Connor called Wayne and told him she'd found Bullet and that he should come join her.
"He came in my McLaren down a road under construction, of course," said Connor. "As he pulled up I thought to myself: 'Who's crazier … me for finding the Buffalo, or him for coming in a $300,000 car?' Oh well, I guess we're both crazy." They also share the same birthday.
Connor was surprised to see that Bullet didn't care much for Wayne. She learned that Bullet's original owner was Ronald (RC) Bridges of Quinlan, Texas; owner of worldwide YouTube celebrity pet Bison, Wildthing.
Even though Bullet doesn't care much for men, the Connors adopted her on the spot. Then the question was how to move her from Argyle to Flower Mound. An animal shaped like an American Bison doesn't fit in a horse trailer, or just about anything else.
"I called Jake Randall of McDonnell's [Building Materials Co.] feed store in Keller and he said he could bring his trailer, which he did on Saturday night," said Connor. "He was doing some work for his grandfather and has his own riding facility in the Keller area. He's a really special young man."
Schoeve had scheduled additional publicity appointments with various media outlets, but Connor insisted that, for her sake, Bullet needed to be relocated to a better environment.
When she was released in her new home, she was greeted by Cowboy and Cowgirl. Eventually, she'll get to know all her fellow adoptees: chickens, ducks, geese, pigs, horses, 14 goats, miniature horses, emus and a beautiful Arabian horse named Fairytale; the other three were re-homed.
So far, the only specie Connor felt wouldn't fit in on the property was a 40-year-old former circus elephant.
"I told Wayne the elephant would be able to break through all the fences and the animals could get loose," said Connor. "Instead, we donated the cost to transport it down to an elephant sanctuary near Houston."
Connor has a long-standing reputation for being more than just animal-friendly. Her love of animals seems to have been passed down to her daughter, Marilyn, who is a senior in veterinarian school.
The Connor's personal menagerie and the animals they've re-homed have been gathered through telephone referrals based on Craigslist postings, her personal sightings on travels around North Texas as a professional realtor with the Dallas Preston Road Keller Williams office and even drop-offs.
Wayne was previously the owner of the two largest junkyards in Dallas and Mari Beth jokes that he delights in saying: "Who would've thought that junk paid for this."
The Connors are going to begin building a special barn for Bullet that will also serve as an educational building about the American Bison place in North American history.
Also, near the lake on their property, they also have plans to build cabins, which will be called Tender Touch Therapy. It will serve as a place of calm for those with emotional issues, such as PTSD, to interact with the animals and professional therapy counselors.
"We've joked that when our driveway gate opens the theme song from the TV show 'Green Acres' should play," laughed Connor.
Accompanied by music or not, Connor just continues: "doing my animal thing."