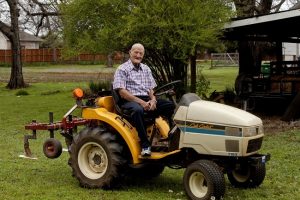 Ralph Morriss, 81, wants to keep his family home.
In 1923 Ralph's grandpa, Andrew Morriss, and his son James used timbers from the original family cabin to build the present tiny, white clapboard farmhouse where Morriss resides on family-namesake Morriss Road in Flower Mound just north of the River Walk.
Now, the old homestead is about to go up for sale due to the recent passing of his older brother who left the 1.22 acre property to his daughters.
Although the heirs would like to sell the house to Morriss at a discounted price below market value, Morriss said he can't afford to buy it on his fixed-income and cannot qualify for a loan.
So he and his family are reaching out to the community for help. His granddaughter created a GoFundMe page with a goal of $200,000 so that Morriss can live out the rest of his days at his family's home.
"What I remember about growing up out here is the way people trusted and helped each other," said Morriss. "At harvest time we'd go from one farm to another lending a hand with the crops."
Every summer, decked out in an A&M baseball cap, Morriss still sells fresh picked produce right off his front porch.
"My grandpa and dad farmed, but I learned to garden by helping my mother. I still grow a lot of the same things she did: onions, beets, radishes, carrots, potatoes, beans, peas, cantaloupes, watermelons, and tomatoes. I have 10,000 square feet under cultivation," said Morriss.
When he isn't in the garden, he is out walking.
Morriss has been involved in the Susan G. Komen 3-Day walk since 2012 and he was recognized last year for raising over $20,000 for finding a cure for breast cancer.
Morriss is now focusing his fundraising efforts on saving his family homestead.
Read more about Morriss here.