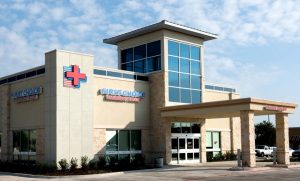 One of the country's largest non-profit health systems, Texas Health Resources, and the operator of First Choice Emergency Room, Lewisville-based Adeptus Health, announced a joint venture for emergency medical care in the Dallas-Fort Worth area.
Under the partnership, Adeptus Health's 27 freestanding First Choice Emergency Rooms in North Texas, and its First Texas Hospital in Carrollton, will become aligned with Texas Health, which is made up of 25 acute-care and short-stay hospitals throughout North Texas.
This joint venture significantly grows Texas Health's vast network of hospitals and outpatient centers, which serve more than 7 million residents in 16 counties in and around Dallas-Fort Worth. With the addition of 27 freestanding emergency departments and the Carrollton hospital, Texas Health now has more than 370 points of access, from hospital and outpatient centers to doctors' offices and imaging centers.
"This relationship with Adeptus Health allows Texas Health to offer North Texans more choices when it comes to their emergency needs," said Barclay E. Berdan, FACHE, CEO of Texas Health Resources. "Expanding our footprint in the region is about making it easier for consumers to find quality, convenient care close to home. And we think a great way to do that is to work with Adeptus, the country's leading freestanding emergency care company."
Adeptus Health owns and operates First Choice Emergency Rooms, the nation's oldest and largest network of freestanding emergency rooms. In North Texas, First Choice operates ERs in Denton, Collin, Dallas and Tarrant Counties, including Flower Mound and Highland Village.
First Choice Emergency Room facilities are strategically located within communities to provide much needed, convenient access to high-quality medical care. Each emergency room is equipped with a full radiology suite, including CT scanner, digital X-ray and ultrasound. The emergency rooms also have on-site laboratory capabilities and are staffed with board-certified physicians and emergency-trained registered nurses.
"This innovative venture between two leading health care systems is an important step in fulfilling our mission to expand access to the highest-quality medical care in the communities we and our partners serve," said Thomas S. Hall, Chairman and CEO of Adeptus Health.  "We look forward to working with Texas Health to further improve access and the continuum of care for patients in the Dallas-Fort Worth area."
According to The American College of Emergency Physicians' (ACEP) 2014 National Report Card, Texas received an "F" in access to emergency healthcare. This further underscores the growing need for additional access points to high quality, 24/7 emergency care, officials said.
"We're responding to changing consumer demands as the region's population has grown beyond areas immediately surrounding our traditional, acute-care hospitals," Berdan said. "Large neighborhoods and population centers are not always down the street from one of our hospitals. Patients shouldn't have to drive long distances to get to a hospital-based ER when a freestanding emergency facility could more conveniently take care of their problem and get them back home sooner."
First Texas Hospital in Carrollton, a 50-bed hospital, will be rebranded under the Texas Health name later this year. The facility includes a four-bed ICU, three operating rooms, nine Emergency Department beds and surgical specialties.  Two additional freestanding ERs are expected to open this month: one in Plano and one in DeSoto. Additional emergency rooms are expected to open by the end of 2016. All the emergency rooms will be rebranded as Texas Health facilities later this year.
Both Texas Health Resources and Adeptus Health were recently named one of the 2016 Best Workplaces in Health Care, according to the global research and consulting firm Great Place to Work and Fortune Magazine.