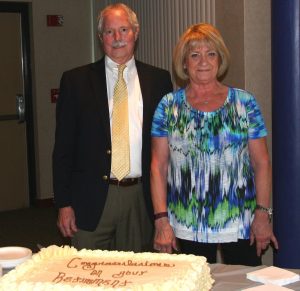 The Highland Village City Council at their May 10th meeting honored Municipal Court Judge Ronald Hurst and Municipal Court Clerk Barbara Osborne with a retirement reception.
Judge Hurst was appointed in April 1979 to serve as Judge for Highland Village. During his 37 year tenure, Judge Hurst presided over Municipal Court sessions and was on-call to provided magistrate and arraignment duties.
Municipal Court Clerk Barbara Osborne was also honored as she retires after 18 years with the city. She served as Municipal Court Clerk and provided key support to Judge Hurst and the City Prosecutor. Osborne established the Teen Court Program for the city and, together with Judge Hurst, made the Highland Village Municipal Court a "Court of Record."
"Judge Hurst presided over our municipal court with an uncompromising standard of consistent, professional, fair and respectful judgment," said Mayor Wilcox. "As court clerk, Barbara demonstrated sincere concern and compassion and provided customer service over and above all expectation of a Municipal Court experience. We will miss them both and appreciate their service to the city."
During the Mayor's Comments, Mayor Wilcox recognized Kinley Smith as Mayor for the Day. Ms. Smith, a student at McAuliffe Elementary, assisted Mayor Wilcox throughout the Council meeting. Also in Mayor's Comments, proclamations were given for Emergency Medical Services Week and Police Week. Chief Reim conducted the swearing in of new Police Officer, Jimmy Sims.
The HVTV Update informed residents of the Celebrate Highland Village event scheduled for Saturday, June 4 with a 5K run in the morning and a family fishout at Unity Park followed by music, food and fireworks at Pilot Knoll Park. Information on Phase 1 Water Conservation and Movies in the Park were also included in the Update.
The City Council early work session and regular session is available on HVTV (Time Warner 16; Verizon 43) and via the website streaming by clicking HVTV. The meetings are also available for on-demand viewing on the city website.