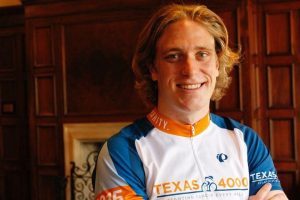 Everyone can do a part to raise cancer awareness and an Argyle college student and his friends at the University of Texas at Austin are certainly doing theirs.
Texas 4000 is a group of 70 UT students which dedicates itself to fighting cancer by spreading hope, knowledge and charity through a two-year student leadership program.
UT junior Josh Bower, whose family lives in Argyle, is a member of the organization that was formed back in 2004. It was started by Chris and Mandy Condit, who were originally going to make the ride a Texas to California; but, thought it would be too much like other charity rides.
"We are a registered non-profit which has given more than $1.3M to our biggest recipient, M.D. Anderson, the #1 cancer-treatment center in the U.S. Many other recipients have received a lot over our 14-year history as well," said Bower.
The program includes fundraising ($4500 per rider at the minimum), volunteering (approximately 50-hours over the course of three-semesters); and cycling, obviously (2000-training miles). It concludes with a 70-day, 4,500 mile bike ride north from Austin to Anchorage, Alaska. This year, the ride starts on June 4.
"They asked themselves: 'what's the farthest place we could possibly bike to from Austin?' and landed on Anchorage, Alaska," Bower said. "They started posting flyers around campus and accepted paper applications soon after. Forty-three people total split up over two different routes, Rockies and Sierra. We have subsequently added a third through the Ozarks."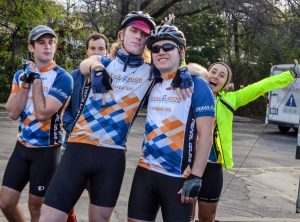 Bower decided to join the group because its concept appealed to him.
"I thought it was a great opportunity, and I loved the fact that we would be doing a great good while having a terrific time and being fit," he said.
Bower, whose grandfather and uncles have battled with cancer, said he is participating in this event to raise awareness; and, for the people who have come into his life from the Texas 4000 organization.
"Amazingly, we have four staff members. Compared to other non-profits our grant size, we have very few staff members," he said
The reason for this is that the majority of the ride, including the training, travel, equipment and community engagement, are student lead.
"My position is called Equipment and Gear," said Bower.
His job entails: taking care of the trailers that go with them to Alaska and hold the rider's gear and bike; facilitating and distributing the gear materials; and, also being head mechanic for his route. There are three different routes that go to Alaska– each 4,500 miles.
"I ride for my teammates, for the most part, now that I've heard their stories," Bower said.  "These are some of my best friends now, and the nature of the organization is very open, supportive and pure and it opens up a space where we can be vulnerable.
"Now that I've seen the struggle of my teammates who have suffered their own battles of cancer," he said. "Because we have kids on our team who have fought blood cancer, testicular cancer, bone cancer, and suffered from losing parents and close family members to cancer; I ride for them."
To help support this cause, visit Bower's personal fundraising page at: www.texas4000.org/rider/2016/sierra/joshua-bower; or visit: [email protected] or call 737-300-2318, if interested in sponsoring, hosting, volunteering, or donating.