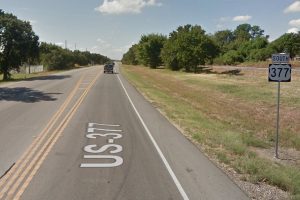 The Texas Department of Transportation (TxDOT) will hold a public meeting next week on the proposed improvements to Hwy 377 in Argyle.
In the coming years, the two lane road will be rebuilt as a four lane divided highway with a sidewalk for approximately six miles from just south of FM 1171 in Flower Mound to Crawford Road/Country Club Road in Argyle.
Improvements along Hwy 377 will include the intersection with FM 407, which sees congestion during rush hour and when high school lets out.
The project would potentially require approximately 16 acres of new right-of-way and a half acre for utility easements.
The meeting will be held in an open house, come and go format from 5 p.m. to 7 p.m. on Tuesday, May 10, at Hilltop Elementary School, 1050 Harrison Lane in Argyle.
Maps showing the proposed project's location and geometric design will be available for viewing.
The information will also be available for public inspection Monday through Friday between 8 a.m. and 5 p.m. at the TxDOT Denton Area Office, 2624 West Prairie Street in Denton, and at the TxDOT Dallas District Office, 4777 East Highway 80, Mesquite, TX 75150.
All interested citizens are invited to attend the meeting.