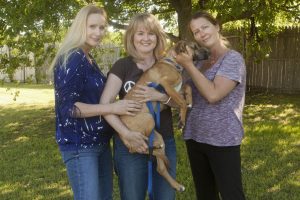 Having long ago extended its original territory and, more recently, outgrowing its longtime home, the organization formerly known as the Humane Society of Flower Mound is undergoing major changes this year.
Now called Humane Tomorrow and with plans to move into new quarters in Argyle next year, the group Stacy Smith co-founded in 1997 is poised for a bright future. What hasn't and will not change, however, is its commitment to help animals and educate those who currently or might in the future own them.
"We're just here for any animals," said Smith, now the organization's vice president of animal advocacy. "When we see animals being mistreated, we're always going to stand up for them and be there for them."
As an only child, Smith considered her dogs her siblings. Shortly after moving to Flower Mound in 1992, she decided she wanted another dog to keep hers company and began fostering. She soon started realizing what a huge problem Texas had with overpopulation and everything that goes with it. So, she decided to do something about it.
"I just saw this as a problem we ought to be able to solve," she said. "It didn't make any sense to me that shelters were full. I think I shared the thought that dogs in shelters were wrong; that they were abused or behaviorally messed up, or that there was something wrong with them. Then I would walk through the shelter and see every one was this great dog. Not that they're all perfect. I started figuring out it was human problems, not the problems with the dogs.
Smith and the late Maxine Morgan founded the non-profit organization at a time when Flower Mound was experiencing tremendous growth of people and animals. There were about 15 volunteers helping back then.
"It seemed like if we could just get people to see them, who wouldn't want these awesome dogs? Then the deeper you get into animal welfare you realize there's so much more. You learn about dog overpopulation. You learn about feral cats."
Today, there are around 200 active volunteers with the group
"What we find is the vast majority of people love animals and don't want to see them hurt."
After starting in their homes, the group was provided the facilities of Dr. O.J. Shaffer's Flower Mound Veterinary Hospital on FM 1171, where today they utilize a small office and other space.
"There were 18,000 people in town when I started and the pound was here in Dr. Shaffer's office," Smith said. "He acted as the animal shelter for the town."
In the years since, the organization's outreach has extended into the entire Metroplex, East Texas, even taking in dogs displaced by the Oklahoma tornadoes. So it made sense to change names.
"We felt the name was sort of self-limiting," Smith said. "In addition to that, we needed something that sort of emphasized on our increasing focus on what we can to make tomorrow better for the animals."
Humane Tomorrow has long-arranged to have animals spayed and neutered and provided funds to pay for emergency medical assistance and deposits to keep pets where they live through their Flowers Fund program.
"We're looking to the future to change things. We're not just an adoption agency. The ultimate goal is to put ourselves out of business, to not need us anymore."
It also has helped stop a boxed pigeon shoot in Lewisville, educated the folks at Fellowship Church why it wasn't a good idea to include live, dangerous wild animals as part of their sermons, and was instrumental in the outlawing of fundraising puppy auctions in Flower Mound.
More recently it started the Love on Wheels dog relocation program where dogs from overpopulated Texas are sent to New York, where there's a dramatic shortage of adoptable animals. The program has been so successful, Smith and her team have spoken about it nationwide, plus been featured in several magazines.
Humane Tomorrow will be able to continue such programs and add many others thanks to the generosity of the Hulcher family of Argyle, which donated $2-million that was used to purchase five-acres of land near Hilltop and Hickory Hill not far from Lantana. Smith hopes to be sitting in new headquarters within a year.
"We have really outgrown this," she said. "It's just time. We're looking forward to that and to be able to do a lot more within the community; and, in North Texas in general."
The plan is to include a building large enough to serve as an education center, in addition to the adoptions. But Smith said the new facility will not be a traditional shelter. It won't house animals, though there will be animals there.
"Texas is bursting at the seams with animal shelters, so the minute you build a shelter you fill it up and you're back at square-one," said Smith, who estimates another $1-million will be needed to do it right, including hiring some paid staff. "Our aim with this building is to be to work to keep animals out of shelters; to provide education programs and outreach programs to keep the animals in the homes they have."
One way Humane Tomorrow raises general funds is the Putts-for-Paws event which will be held for the second year May 7 at Flower Mound's Bridlewood Country Club. Registration and a putting contest will begin at 7 a.m., with the shotgun start main event at 8 a.m., followed by lunch and awards.
Spots are available for $125 per person with $25 mulligans and $10 raffle tickets also available. More information is available from Tracy Kempf at: [email protected], or 972-691-7387, extension 103.
It truly is an exciting time for Smith and everyone involved with Humane Tomorrow.
"The really innovative programs that I think set us apart like Love on Wheels and Flowers Fund, [means] we're greatly increasing our outreach programs this year," she said. "We're getting out into the schools. We're working more with kids groups, because it's the next generation that's going to save us all."