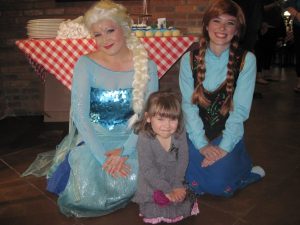 by Mark Miller, Contributing Writer
Brooklyn Rex looks just like any other happy three-year-old girl. When movie princess look-at-likes come to visit her, she jumps for joy and calls their names. She's ready to eat the cupcakes provided in her honor and fiddles-around with her pizza.
The celebration at Grimaldi's in The Shops of Highland Village on Thursday evening was a send-off for a May 8 trip she and her family will be taking to Disney World in Florida. It's a vacation arranged by Flower Mound resident Lori Negron, a wish-granter for the Make-a-Wish organization.
Negron was moved by Brooklyn's story. Two years ago, thanks to research by her mother, Samantha, she was diagnosed with the extremely rare combination of Systemic Juvenile Idiopathic Arthritis (sJIA) and Macrophage Activation Syndrome (MAS).
There are several types of JIA, all of which involve long-term joint inflammation. Symptoms begin before children are 16-years old and the inflammation lasts for at least six weeks.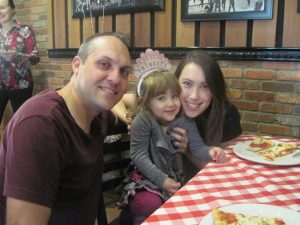 The cause of JIA is unknown or "idiopathic." Systemic juvenile idiopathic arthritis (sJIA) is one type of JIA; between 10- and 15-percent of all children with JIA have sJIA.
The immune system becomes active for reasons that are not clear. It then remains active and begins to attack healthy cells and tissues. The result is inflammation of the joints, causing them to become red, swollen, painful or hot to the touch; and, more widespread inflammation of the body, resulting in fever and rash. Inflammation or swelling of the internal organs such as the heart, liver, spleen and lymph nodes can also occur as a result of sJIA.
MAS can also occur as a result of sJIA. In MAS, the immune system is uncontrolled and works in overdrive, leading to too much inflammation in the entire body.
It's a combination few doctors anywhere in the world know about, much less in her native South Africa. Plus the costs of her 10-daily medicines, including chemotherapy and steroids, were astronomical and not all covered by insurance.
So, Brooklyn's father, Darryn, called his father, Stuart, who with wife, Ingrid, have lived in Flower Mound since 1995.
Stuart did some research, which ultimately led Darryn and Samantha to bring their daughter to the United States for treatment at Scottish Rite Hospital in Dallas.
Not only are medications far less expensive here, but she's been connected to great doctors, including Scottish Rite pediatric rheumatologist Dr. Lorien Nassi; and, more recently Flower Mound pediatrician Dr. Kiran Harpavat.
The good news is Brooklyn is down to two daily drugs and seems to be improving, despite the side effects.
The bad news is the Rex's have been in the country the past 13-months– strictly as visitors– with no jobs and little money; and no prospects of that changing any time soon.
But, they can see the progress their daughter has made. Plus, she's getting to spend time with her maternal grandparents, Andre and Carol Leeuw, who flew from South Africa to take part in her wish to visit Disney World with her parents, where she'll get to see the real princesses and much more.
Anyone wanting to know more about Brooklyn's story can do so at www.brooklynrex.com, or the Hope for Brooklyn Facebook page.