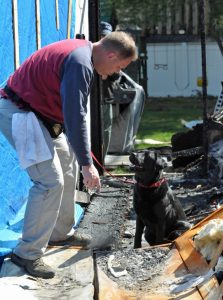 Meet the newest member of the Flower Mound Fire Department team; arson detection dog Ziva.
 Ziva is a female Labrador Retriever specially trained in detecting accelerants and was provided through a grant through State Farm Insurance.
She will work alongside FMFD Fire Prevention Officer Jason Bolejack, as well as serve other agencies as needed.
Officer Bolejack and Ziva have spent the last several weeks out of state undergoing extensive training.
Area residents are invited to join the Flower Mound Fire Department for a special badge pinning ceremony for Ziva this Thursday, May 5, at 10:30 a.m. at the Central Fire Station, 3911 S. Broadway Ave.