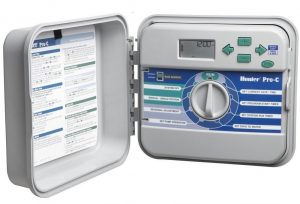 by Janet Laminack, Denton County Extension Agent-Horticulture
It's been raining again! This seems pretty obvious, but if it's raining you don't need to water your lawn. If you can't help it, your sprinkler system just does its own thing, it's time you took charge of it.
Your irrigation system should have a rain and freeze sensor on it. If it doesn't, it's time to upgrade your controller. If your controller doesn't allow you to program different zones for different lengths of time, it's time to upgrade your controller. It's time to use the new technology out there to make our landscapes as water efficient as possible.
If you need help doing this, on Thursday, May 26, from 6-8 p.m. at the Emily Fowler Denton Library there is a free class on programming your irrigation controller. Believe me, you can do it.
How about saving some of this rain for later? On Thursday, May 19, from 6-8 p.m. there's a rain barrel class at the MCL Grand in Lewisville which costs $30.
It's important to remember that irrigation systems are in place to supplement our natural rainfall and our lawns do really well with one inch of water per week or less. The same goes for our perennials, flower beds and shrubs.
Finding well adapted plants helps reduce the amount of water we need to use in our landscape. Plants need a couple of years to get established and will require watering. But our goal is to find plants that after this establishment period, can exist on very little supplemental irrigation (think: August watering only.)
Where can you find well adapted plants? Our local nurseries and garden centers do a great job selecting plants that like our weather. If you want to design your own landscape, you might be interested in our six week long class on Tuesday evenings called "Design Your Yard" which costs $50 ($75 for a couple) but you get a course book and other supplies. Registration is required for this and space is limited.
And the last thing exciting thing on the horizon is the Master Gardener Annual Garden Tour on May 7. This is a major fundraiser for the Denton County Master Gardeners and tickets cost $10, children 12 and under are free. There are five home gardens of Master Gardeners on the tour this year and two public gardens. This is an excellent way to see what actually works in our area and get some ideas of plants to use and ways to use them.
More information about all of these classes and events is available at dcmga.com. There are links to our event page that has all the details. Also, we are here to answer your questions, at 940.349.2892 or [email protected]. Follow us on Facebook: Denton County Master Gardener Association and Denton County Texas A&M AgriLife Extension.