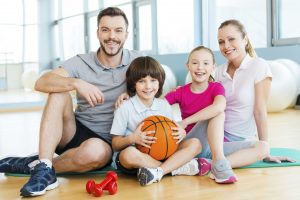 Summer is the perfect time to get your whole family active, healthy, and involved.  And at the Cross Timbers Family YMCA, family is our specialty!
From youth sports, swim lessons, and day camp for the kids, to group exercise classes and personal training for Mom and Dad.  The Y is where families in Flower Mound spend their summers.
Our youth sports offerings this summer include t-ball, volleyball and basketball; but we're also offering so much more.  Our sports programs emphasize fun, developing character, and fair play. We've seen something as simple as a soccer season help our kids grow personally, become great teammates, and develop leadership skills.
Our swim lessons stress a core group of aquatic skills that we all need to be safe around water, like how to enter and exit a pool safely and how to be underwater safely.  As the lessons progress, our kids learn new swim stroke techniques and develop stamina to swim longer distances.
Camp Yipiyuk, the day camp we offer in-branch at the Y, for children ages 5-12, offers amazing weekly field trips to places like the Perot Museum, Hawaiian Falls, and Top Golf!  We're striving to keep kids active during the summer months, so we also swim and play outdoors regularly, explore nature, and try new activities.  By the end of summer, your child will have a slew of new friends!
YMCA Camp on the Lake is also a great place for your kids, ages 6-13, to experience summer fun! Held on Lake Lewisville, Camp on the Lake offers your child the outdoor experience that sleep-away or resident camps do, but without having to stay overnight.  Your camper will enjoy activities such as archery, horseback riding, water activities, crafts and more…all close to home!
But what about Mom and Dad?  We offer about 60 group exercise classes every week, featuring popular formats like cycling, boot camp, yoga, Zumba, and Les Mills BODYPUMP.  Our fitness floor features all of the essentials, like treadmills, ellipticals, and free weights.  Plus, getting started with a Personal Trainer has never been more affordable; just $89 for three introductory sessions!   Did we mention that we offer child watch while you work out?
All in all, the Cross Timbers Family YMCA offers something for just about everyone.  Stop by or visit us online and make this the best summer ever!
The Cross Timbers Family YMCA is located at 2021 Cross Timbers Rd. in Flower Mound. Call 972-539-9622 or www.crosstimbersymca.org.
Submitted by the Cross Timbers Family YMCA