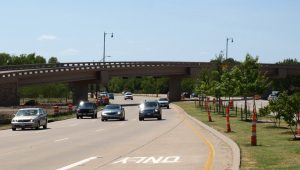 There may be some relief for commuters that use FM 2499 to get into Grapevine.
The Town of Flower Mound has been in contact with the Grapevine Traffic Division regarding the timing of the traffic signal at FM 2499 and Riverwalk Drive, as the timing of the light is controlled by the City of Grapevine.
Grapevine is planning to modify the Riverwalk Drive Traffic Signal–south of Gerault Road intersection–to allow more time for southbound traffic during the morning rush hour.
Town officials said that the light should be re-timed by this Monday, May 2.
Although the adjustment should result in some minor reduction in congestion, there will still be delays in the area which are the result of Fairway Drive a.k.a Dam Road being closed. Fairway Drive is closed so crews can make repairs to the dam.
Due to rain-related delays, the dam repair project is now anticipated to take longer than originally scheduled, with June 1 being the earliest date Fairway Drive will be anticipated reopening.