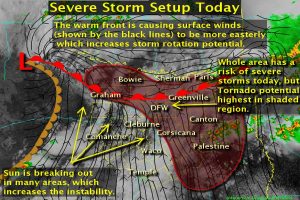 A Tornado Watch is in effect for Denton County until 10 p.m. tonight.
Several ingredients may come together this afternoon that would result in rotating thunderstorms and possibly tornadoes, according to the National Weather Service.
The two main ingredients are wind shear (which is often caused by surface winds that are more easterly) and instability (which is caused by sunshine and high humidity).
The greatest risk for storm rotation and tornadoes will be where there is the highest combination of instability and wind shear or where the red shaded area is on the map.
Check back for updates below.