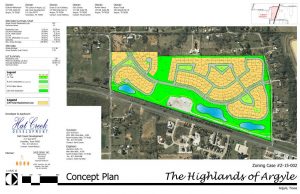 The Argyle Town Council unanimously approved plans for the creation of The Highlands of Argyle Public Improvement District (PID) at its April 26 meeting.
Mayor Peggy Krueger and council members Kay Teer, Eric Lamon, and Marla Hawkesworth voted for the funding plan; Mayor Pro-Tem Joey Hasty and council member Jay Haynes were absent. The Highlands action came without amendments.
The 111-acre master plan of The Highlands PID actually will be called The Lakes of Argyle, because another area development is already named The Highlands. It will feature 139-lots and 40-acres of parks with extensive trails.
PID's allow municipalities to levy and collect special assessments on properties in a designated area in order to facilitate infrastructure improvements. The proposed property tax rate of The Highlands PID is 0.64107 per $100 of valuation.
The developer requested the town create the PID in order to finance a portion of the public infrastructure for the project, which includes a new north/south access road to relieve congestion on Hwy 377 and trails and pedestrian amenities. The estimated cost of the improvements is $10.1 million.
The district will be located west of Hwy 377 along and adjacent to the railroad tracks, south of Old Justin Rd., north of Harpole Rd. and southwest of the Old Town area.
Kosse Maykus, chairman of Maykus Custom Homes of Southlake, made the presentation on behalf of the project developers Development Planning & Financial Group, Inc. He reiterated much of the plan was approved by the council last fall.