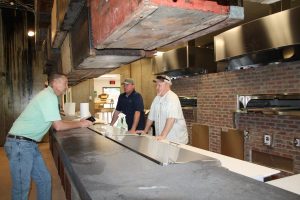 Anticipation is building as a pizza restaurant plans to open soon in the Argyle Volunteer Fire Department's former home on Hwy 377 near FM 407.
Earl's 377 Hand Crafted Pizza Kitchen will follow the theme of Earl, a fictitious military veteran who met his wife in Italy and fulfills her dream to open a restaurant where she does the cooking and he does the decorating, using whatever items he finds laying around his property.
The 5,000 square-foot restaurant with an additional 1,500 square-feet of outdoor dining space seats 200, with more than half of the seating outside on the screened-in porch and large covered patio.
Inside, the concrete walls of the original fire station constructed in the early 1970s are still visible. Brick, stone and wood have been added in places and the use of reclaimed materials fashioned into custom-made chandeliers, light fixtures, chairs, and tables gives the restaurant a unique look and feel.
The restaurant includes an indoor/outdoor bar adorned with old military ammunition boxes and helmets repurposed as bar lighting. An upside-down pickup truck is perched over the outside entrance of the to-go counter.
Inside the dining room are high-top tables, standard-height tables, booths and a large shuffleboard table where Earl can hang out with his veteran buddies.
Pizza will be baked to order in a high-end Wood Stone oven using made-from-scratch dough under the direction of Executive Chef Chad Kelley.
The original concept comes from Denton-based Elk River Investments that also owns Barley & Board and LSA Burger Co. in Denton, along with Fuzzy's Taco Shop next door to the new eatery.
Earl's 377 is on schedule to open in mid-May. The developer has future plans to open a coffee shop behind the restaurant.