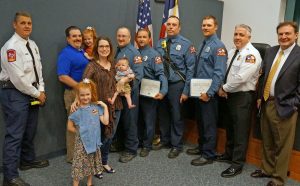 Members of the Flower Mound Fire Department were recognized at the Town Council meeting on Monday night with the "Stork Award," an honor given to those who directly assist in the labor and delivery of a child.
This recognition stems from a call FMFD responded to at 4:13 a.m. on January 14, 2016. Station 3 in Northshore was dispatched to the home of Brian and Kristen Ethridge for a patient in active labor.
Thirteen minutes later, Captain Matthew Brenner, Engineer Chris Blair, and firefighters Chad Edgar, Steven Ford, and Julian Pastrana assisted Kristen in the delivery of baby boy Bennett.
His arrival brought the Ethridge family to five, including his two older sisters and father, Brian.