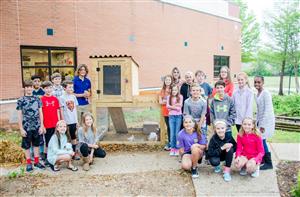 There is an old saying that says, "It takes a village to raise a child."
For five chickens born at Flower Mound's 9th Grade Campus (FM9), it takes Advanced Placement (AP) Biology classes; one Marcus High School student; and more than 400 loving students at Bridlewood Elementary to raise them.
For a few years, FM9 biology teacher Renee Wilson has orchestrated The Great Chicken Hatch — an engaging lesson for her students to learn about about embryology and how animals develop.

After the hatch, Wilson's students go on tour with the chickens to local elementary schools to share the experience, which correlates with second-grade lessons about the development of a chicken egg.
Originally, Bridlewood was planning to purchase its chickens from a local feed store. However, FM9's Great Chicken Hatch had an abundance of chickens this spring.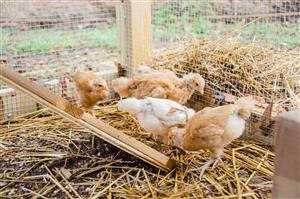 "We believe the chickens will enhance our students' educational experience in the outdoor learning environment by giving them the responsibility to take care, observe and protect the chickens," Bridlewood Principal Robin Block said. "As we rely more heavily on technology for instant information, there is something really wonderful about watching our students light up as they observe chickens and take notice of the physical world around them."
Wilson is happy FM9's chickens have found a loving home at Bridlewood.

"I am excited about the chicken coop at Bridlewood," Wilson said. "When students interact with animals, they learn the responsibility of taking care of animals, as well as lessons about kindness, compassion and leadership."
Knowing the chickens would hatch this Spring, Bridlewood was in search of a home for them, which is where Marcus High School student Andrew Thien came into the picture. The former Bridlewood student built a chicken coop for the campus as part of his Eagle Scout project.
"As a former Bridlewood student, I wanted to give back to my elementary school in some way and I thought this would be a great opportunity," Thien said. "After contacting Mrs. Block, I constructed the chicken coop in which the children may learn the responsibilities of taking care of animals. I hope this coop will continue to be used for future students for many years to come."
Bridlewood students are happily embracing the newest members to its family.
"The chickens are fun to interact with and look at," fifth-grader Avery Walters said. "They make our garden more lively."

Bridlewood expects to its chickens to begin hatching eggs in the fall. In the meantime, the campus hopes to expand the coop as the chickens grow larger. They also plan to let the chickens become free-range during the school day.

Once the chickens begin laying eggs, the campus plans to have students package and sell them in order to purchase chicken feed. Currently, the campus is developing a specialized label for its egg cartons.
"It is my hope that by our students interacting with chickens, it can bring about a more meaningful connection to healthy living and a greater appreciation for the environment," Block said.
See more photos of Bridlewood's newest residents here.
Learn more about FM9's The Great Chicken Hatch here.