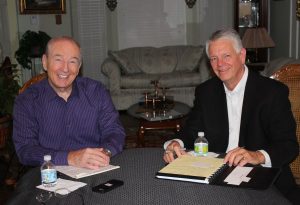 Every resident of Flower Mound, as well as many from contiguous cities and towns has, at one time, or another, enjoyed some of the features offered by that splendid slice of real estate along FM 1171 (Cross Timbers Road) known as Parker Square. In the early 2000s, area residents shopped, dined and conducted business in the place once dubbed as "a new centerpiece of the suburbs" by the Dallas Morning News.
Designed by architect David Schwarz, the designer of Southlake Town Square, Sundance Square in Fort Worth, and Globe Life Park in Arlington, Parker Square was expected to be a vibrant shopping venue for area residents who wanted to stay local, while enjoying a variety of specialty shops and dining establishments.
All was going well until about 2008, when the economic recession pulled the rug out from under many in the small business community.
It took several years, and several bankruptcies before the economy began to slowly recover. Along with it came the recovery of Parker Square, which today has many new features that include the home of North Central Texas College, which has an enrollment of about 1,600 students. Additionally, some new restaurants have opened and other new entrepreneurs are eyeing the terrain. Recently, Manchale, an East Indian cuisine restaurant opened to excellent reviews and consumer satisfaction.
Then there's the Yellow Rose restaurant, which has, for many years, been a favorite of many diners, myself included. A couple of years ago, Enzo's NY Pizzeria, a delicious menu of Italian delicacies, opened to rave reviews and the frequent patronage of many discerning customers. Moreover, medical facilities, insurance companies and law offices have brought more attention and foot traffic to the ever-growing interest and delight of consumers.
To provide more perspective on the future of Parker Square I invited Curtis Shore, a principal in the redevelopment of the mixed use project, for a video interview, which accompanies this article. A new website and community portal is being constructed for those who want more info. It will be announced as soon as it's completed.
Bob Weir is a long-time Flower Mound resident and former local newspaper editor.