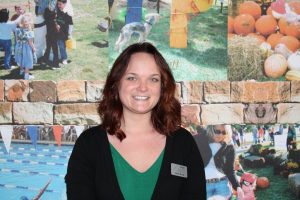 As if Lantana isn't already a fun place to live; meet Ashtin Slovak, Lantana's first-ever Lifestyle Director.
Lantana Community Association Manager Mark Norton said that the trend in planned residential developments like Lantana is to create social and special interest events within the community.
"Active adult communities—like Robson Ranch—have a history of special gatherings and events tailored to special interests, such as wine-tastings or dances or art classes or other events," said Norton.
"Well, Lantana is joining in that trend and will be offering events for kids, teens, adults, men, women and everyone. If we can arrange it, we are going to try it. There's going to be events for all different age groups and interests."
He added that the association staff has been putting on social events for residents since day one, but to expand the social focus of the community a dedicated position was needed to organize the increased activities being presented. Not everyone golfs, or goes to the pool or plays tennis, Norton noted.
"Ashtin has been with Lantana for about eight-months as my administrative assistant," said Norton. "She has a background in customer service and management in the food industry. Before transitioning full-time as the Lifestyle Director, she's helping train her replacement, Kaylynn Cox."
Upcoming events already being set include guest presenters from area zoos, book readings for youngsters, cake decorating classes, beer college, make-up tutorials from Nordstrom's, food truck tastings and dances.
"The first new event is a 'pride-of-ownership' car show," said Norton. "All years of cars are invited; from antique to classic to brand-new, whatever. It's set for Saturday, April 16, from 10 a.m. to 2 p.m. at Adkins Elementary School and will have a DJ, food and there will also be a bike– or kid's wagon—decorating contest."
He added that while Slovak is assembling a list of prospective events, any ideas residents may have are encouraged. She may be reached at 940-728-1660 or [email protected].
In addition, a basketball court has been approved by the Association and will be located next to the Stadium Tennis Court along Lantana Trail. The court, which should be finished by this summer, will be lighted and fenced with key card access and open until 10 p.m. nightly.