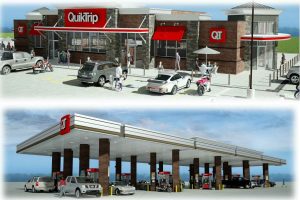 The Flower Mound Town Council chambers had a packed audience on Monday night. The main draw was one specific agenda item; the proposed 5,858-square-foot Hawk's Hill QuikTrip (QT) store on the southwest corner of FM 2499 and Waketon Rd.
The March 28 P&Z meeting devoted 88-minutes to the topic before it approved recommending the project with a 5-to-1 vote.
Following a presentation by J.D. Dudley, project manager for QT, that showed an earth-toned stripe on the canopy, rather than an illuminated red stripe, the room began to clear. After public speakers gave their opinions, they, too, filed out.
Council member Kevin Bryant referred to one of the public speakers request that the council listen to the "will of the people."
"I received 56-emails on the issue, with 42 people in favor, in addition to 18 of the 21 in-person speakers during the meeting," he said. "So, if we do what the people want, we need to pass this [QT store]."
Council member Bryan Webb added that the pros outweigh the cons.
"QT has added architectural interest items, such as a sloped canopy roof and the pitched side sections on the front and back," he said. "If we approve this, we'll be getting a top operator in this industry. This is a win for everybody."
"I want to commend the [town] staff," said Mayor Pro Tem Steve Dixon. "They have to come up here and outline the rules. I'm sure that the staff and the company can come together."
The roof-slope amendment for the roof and parapet standards and the ordinance amendment to permit a convenience store with gasoline sales at the specific location were both passed four-to-one; Deputy Mayor Pro Tem Itamar Gelbman voted against both items.