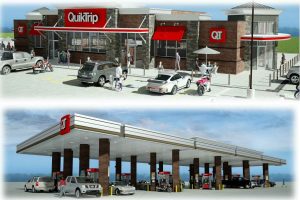 Flower Mound Planning & Zoning Commissioners on Monday night voted 5-1 to recommend approval of a Master Plan Amendment (MPA) and Specific Use Permit (SUP) to allow a QuikTrip convenience store and gas station on the southwest corner of FM 2499 and Waketon Road.
The proposed concept plan depicts a one-story a 5,858-square-foot building and a fuel island canopy with 10 pumps on a 1.5 acre lot.
QuikTrip will be the first business in the Hawks Hill development. The approved concept plan for Hawks Hill depicts a total of nine commercial buildings, including the QT.
Despite changes by QuikTrip to tone down the look of the store and  incorporate more architectural elements, commissioners still had concerns.
A sticking point was the signature red band along the roofline of the building, which QuikTrip was not willing to part with. They also asked for a variance from the pitch roof requirement.
QuikTrip agreed to spare a 100-year-old, 30-inch diameter pecan tree on the site.  See a video of the meeting here.
The MPA and SUP are expected to be considered by Town Council on Monday night.