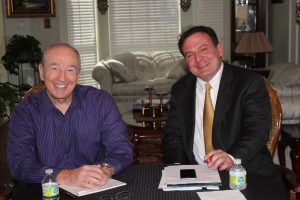 The race for Flower Mound Mayor has three candidates this year. Tom Hayden is running for re-election, and his two opponents, Janvier Scott and Jim Berendt, have also applied for the position of FM Mayor. Ms. Scott and Mr. Berendt have each been interviewed during the past week.
Mayor Hayden's video interview accompanies this article. The following info was taken from Mr. Hayden's re-election announcement in The Cross Timbers Gazette in January of this year.
"Let me begin by thanking the residents of Flower Mound for giving me the opportunity to serve on Flower Mound's Town Council for the past seven years, four of those years as Mayor of our Town.  I'm grateful for the opportunity to be a part of our local government. Recently, employees of the Town of Flower Mound, who are also members of the Police and Fire Associations, have endorsed and encouraged that I serve for another term as Mayor. That is a tremendous honor, and especially meaningful when employees of our community request that I continue as mayor. Over the past four years we have accomplished many things. Some of the accomplishments I'm most proud of are our numerous park additions including:
"A dozen new park renovations throughout the town (including Fort Wildflower, Flower Mound's first community built playground); a dog park (at last); permanent home for the senior center (finally); initiated the dredging and enhancements for Rheudasil Park; increasing the number of trails from 25 miles to just under 60 miles; the reopening of Twin Coves Park, and numerous pavilions added throughout the town. Further, after decades of requesting major road improvements to FM 1171 and FM 2499 they have begun and upon completion should greatly aid in the flow of traffic throughout Flower Mound.
"In addition, Money Magazine recognized Flower Mound as one the "Best Places to Find a Job" in the country. Over the last four years, the town has added over 6,000 new jobs, 61 new restaurants, the expansion of Kroger's and the highly-anticipated opening of Market Street. During this time, numerous regional headquarters have also moved to Flower Mound, which has resulted in millions of square-feet of new commercial space. Despite the new construction, our Lakeside Business District continues to grow in popularity and available commercial space has declined from over 10% vacancy in 2012 to 5% today.
"We have also seen the town's credit rating improve to AAA, the Town's tax rate was reduced for the first time in 25 years coupled with consistently strong property values. With this progress, I've decided to seek another term as Mayor of Flower Mound. If re-elected, I will continue to advocate for additional parks, road and other infrastructure improvements, a vibrant economy without multifamily housing and continued improvements to public safety. I will also continue to make our neighborhoods my office and be easily accessible to listen to concerns. Thank you again for the many years of support."
Mayor Hayden's re-election Facebook page can be accessed at: https://www.facebook.com/HaydenForMayor.
Election Day is May 7th, early voting begins April 25 – May 3, 2016.
Bob Weir is a long-time Flower Mound resident and former local newspaper editor.