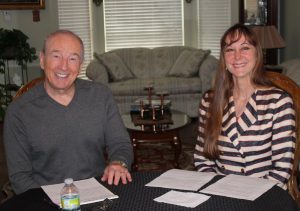 This year, the race for Mayor of Flower Mound has three candidates. Tom Hayden is running for reelection and has two opponents; Janvier Scott and Jim Berendt.
Recently, Ms. Scott sat for a video interview, which accompanies this article. Mayor Hayden and Mr. Berendt will also be invited.
The following information comes from Janvier Scott's web page: www.jscottformayor.com.
"I think one of the reasons that I had been encouraged to run for mayor this year, was that the people who know me best, know the passion that I share with my mother for the natural beauty of our town.  We have spent years, speaking up for the unusual and ancient trees that this town was blessed with. I feel like we, as a town, are stewards over our part of the Cross Timbers forest.  While I rejoice in the success of our town and welcome every new business and new resident, I am saddened at some of the recent losses of this forest for the profit of a few.  I recognize that we, as a town, have been poor stewards of our Cross Timbers and the ancient Post Oaks can never be replaced.  We can do better.  With your help, I would like to serve Flower Mound better.
"I know what it is like to be a resident and that is why my first priority is to put residents first.  I will work for you.  I will see that you are protected.  I will try to change the culture that lets developers run over the Flower Mound citizens. The rights and needs of our residents should come before the desires of development interests. Those values are put at risk with new high-density, incompatible or less than exemplary development.  Rapid development approved without studying long-term impacts negatively affects our infrastructure (roads, police and fire) and unique character.
"As a Software Engineer I have had the pleasure of working collaboratively with other engineers for all my 29 years since graduating college. So when a problem arises, we work together to solve it as a group.  Each member of the team contributes, playing to their strengths.  I use this strategy for all aspects of my life, and that will carry over in my time as Mayor.  I will look forward to collaborating with residents, town staff, and Council, boards and commissions, and other community groups."
Election Day is May 7th, early voting begins April 25 – May 3, 2016.
Bob Weir is a long-time Flower Mound resident and former local newspaper editor.