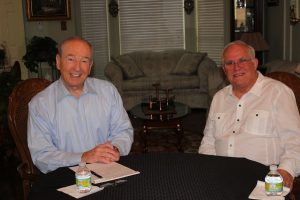 Continuing with the video interviews of local candidates for public office, I recently had the pleasure of sitting down with Flower Mound resident and candidate for Mayor, Jim Berendt.
Mr. Berendt is running against two-term Mayor Tom Hayden and another longtime resident, Janvier Scott. Ms. Scott was the subject of an interview earlier this week, which can, along with other video interviews, be viewed on The Cross Timbers Gazette website. Mayor Hayden has been scheduled for an interview early next week.
As for the written portion of this interview, the following information was supplied by Mr. Bernendt:
"After 20 years in the Marine Corps I know what a leader is – I think that, in a town this size, leadership is secondary to "listening" and being more open to what the majority wants. I think, over the last 20 years our Town Council has been more reactive than proactive and has listened to the loudest voices. We need to spread the monies more evenly and not cater to special interest groups as much as we have. This is great town! I love living here and I am really scared that if it gets too much better I will wake up and find out it has all been a dream – but I am willing to take the risk!
"I encourage the citizens to VOTE- examine what the candidates are saying and VOTE. We had single digit percentage in our voting in our last election and that needs to change. I will never ask for your vote, but I hope to earn it with my ideas. I am the odd man out in this election and started out with zero support and hope over the next 40 days or so to show that I am a viable option as Mayor. You will not see much from me in mid April.
I need to do a lot more to determine what YOU (the voters) want- not what I think you want."
For more info on Jim Berendt, please check his web page: www.JimBerendt.com. Or, you can access his Facebook page at: https://www.facebook.com/jim.berendt.7
Bob Weir is a long-time Flower Mound resident and former local newspaper editor.