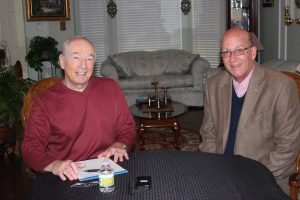 Although growth is inevitable in any city or town, people are often afraid that it will negatively impact their lives. Therefore, the growth in Flower Mound has some people concerned that the rural nature of the town may be in jeopardy.
Recently, Councilman Bryan Webb sat for an interview to dispel some of those concerns and talk about the positive side to growth. Mr. Webb was elected in 2012 and reelected without opposition in 2014. He is running for re-election this year and his opponent is Sandy Fambrough, who was my guest for an interview earlier this week. All the local candidate interviews, including videos, will be available on The Cross Timbers Gazette website. The video interview accompanies this article.
The following information is taken from Mr. Webb's reelection literature: "Resident safety is job one. I have been endorsed by the employees who insure our safety; the Police and Firefighter Associations. When faced with a growing drug problem, I led a Community Conversation – Drugs. The wellbeing of our youth continues to be my focus. As Flower Mound's demographic has aged, the needs of residents have changed. In 2015 we fulfilled a long time promise and opened a permanent Senior Activity Center. My balanced approach has increased commercial and sales tax revenue that provided the resources to invest in amenities residents want; the new Hound Mound, Rheudasil Pond, practice fields, and land to expand the library."
Some of the bullet points on Mr. Webb's literature include: "The vision of Flower Mound is to preserve our unique country atmosphere, heritage, and quality of life, while cultivating a dynamic economic environment."
Country Atmosphere: Implemented the concept of Clustered Development in the CTCDD to protect scenic corridors.
Heritage: Secured for future generations a 150 year old log cabin.
Quality of Life: Opened the Hound Mound and Senior Center and acquired 20 acres for new practice fields. Replaced old playground equipment and approved dredging of Rheudasil Pond.
Dynamic Economic Environment: Actively pursued commercial projects that brought jobs and increased tax revenue to FM.
Election Day is May 7th and early voting is from April 25 to May 3rd.
Bob Weir is a long-time Flower Mound resident and former local newspaper editor.