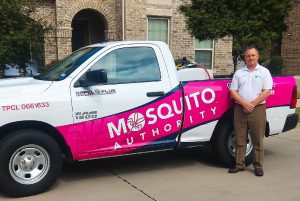 The unusually warm winter has started Mosquito Authority's phone ringing about a month earlier than normal from those seeking to eliminate mosquitoes.
Matt Jordan and his Mosquito Authority franchise are ready.  They have served southern Denton County since just before the West Nile virus broke out here in 2012. The demand for their services has grown ever since.
After leaving a career as a data analysis executive, Jordan worked by himself the first year. Since that time, he has added several mosquito control specialists.
He and his wife Kristy were actually customers before they started the business.  With two young children and yard full of mosquitoes, Kristy hired the Tarrant County franchise of Mosquito Authority to treat their Flower Mound yard.  The entire family was extremely impressed with the results. When he learned the neighboring territory was available, he jumped at the chance.
Jordan said many people don't realize that mosquito control companies differ from pest control companies.
"General pest control treatments typically focus on the interior and perimeter of your home and perhaps a broadcast spray on your lawn. That's not where the mosquitoes are," said Jordan.
"Mosquitoes hang out in the trees and shrubs and they breed in areas with standing water; the traditional pest control companies don't usually treat there. We first look to break the lifecycle by eliminating or treating the standing water, and then when needed, we're coming in with the backpack equipment to treat the trees and shrubs "
Another difference is the frequency of treatments: typically every 21-days during the "mosquito season," which is normally late March through early November. General pest control companies typically operate on a quarterly basis year-round.
Jordan's business received a big boost from the West Nile virus cases that began surfacing right when he started his business.
"When the television stations were leading their newscasts about it, that provided a wake-up call about the disease that mosquitoes can carry," Jordan said. "The West Nile virus is still with us, but not at the same levels of 2012."
This year, it's the Zika virus that has prompted calls from new and existing customers.
Jordan said there is a lot we don't know yet about the Zika virus, like how it is transmitted, how many types of mosquitoes carry it, and what kinds of complications it can cause (like the possible connection to microcephaly and Guillain-Barré Syndrome).  Mosquito breeds known to carry the virus are found in the Dallas-Fort Worth area.
Jordan said his basic treatments are effective against any West Nile and Zika carriers. It's part of their effort to rid a customer's property of all mosquitoes.
Call Mosquito Authority at 214-218-6285 or visit BugsBite.com.