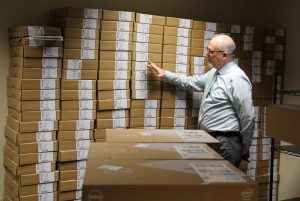 Denton ISD elementary and secondary schools will receive new Chromebooks after spring break as part of the district's new technology initiative that will dramatically increase the amount of devices in classrooms from 2016-2020.
At their Feb. 9 board meeting, trustees approved the district's digital learning proposal, which calls for Chromebooks to be distributed to all elementary fourth- and fifth-grade classrooms as well as all social studies classrooms in middle and high schools. In its first year, the plan will bring 5,562 Chromebooks to students, teachers and support staff.
In this phase, each appropriate secondary classroom is slated to receive 15 Chromebooks, while each appropriate elementary classroom will receive 12; each classroom teacher will also receive his or her own Chromebook. This number was determined as it will allow a single classroom of 30 or 24 students to share devices with two students per Chromebook, or a teacher can allow another classroom to borrow his or her set if not in use so all 30 or 24 students can use a Chromebook.
The expanded technology initiative was proposed by the Denton Digital Learning Design Team, a 10-member group composed of district teachers, administrators and technology specialists who studied the implementation of devices in classrooms for 18 months. Their approved four-year plan calls for district curriculum and technology administrators to monitor each previous year's purchases and adapt for potentially new or improved options for the coming school year.
Additional elementary grade levels and secondary class types will receive Chromebooks in subsequent years, and a replacement cycle for current technology will address long-term needs of teachers and students, school officials said.