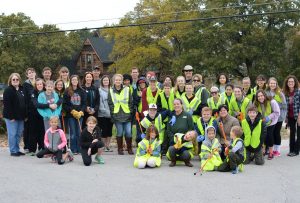 Keep Argyle Beautiful has spread its wings and become a 501(c)3 on Jan. 26, 2016– an official non-profit—to have more flexibility to reach more people.
"At first it was scary to think we were going to be on our own and not under the town anymore," said Deborah Cottle, Keep Argyle Beautiful (KAB) Chairperson.
Cottle said that when the town oversaw KAB, things did not move as quickly as they do now.
"The Open Meetings Act kept us from freely discussing business without calling a meeting every time. It was hard to get anything done in a timely manner. Now that we are an official 501(c)3, we are able to discuss the events we are organizing without calling a meeting constantly."
KAB was organized in 2007 to preserve and enhance the town's local natural environment through educational and motivational programs. It became an affiliate of Keep Texas Beautiful (KTB) by setting goals with KTB guidelines.
KAB's mission is to maintain a clean, healthy, safe, and beautiful environment through education, engagement and motivation of the town's citizens.
To achieve its purpose, KAB creates and sponsors special events that support litter prevention, beautification and waste reduction. The KAB Board members are volunteers who like to work with other citizens and community groups to reduce and prevent pollution.
KAB also has informational tables with brochures that emphasizes the importance of recycling, waste reduction and litter prevention to educate citizens on the type of items that can be recycled to keep them out of the landfills during Argyle's Annual Spring Clean-Up Day. With its partners, the Town of Argyle and Republic Services, KAB gives away 100 trees to residents during the event.
KAB reinstated the Pride Award for businesses and homes to encourage citizens to take pride in their property. The Adopt-A-Spot is also being reinstated and will offer spots for citizens and other organizations to adopt to help keep Argyle clean and beautiful.
To that purpose, KAB participates in events such as: sponsoring cleanup groups for The Great American Cleanup; Town of Argyle's Community Easter Egg Hunt; National Night Out in October; Don't Mess With Texas Trash Off; Recycle Day; and, the Big One-Day Service Event– collecting over 500-pounds of trash. The group also sponsors the annual Argyle Christmas Festival and Tree Lighting, with more than 500 people attending the 2015 event.
KAB won the 2015 Governor's Community Achievement Award late last year. The $110,000 grant will be used on a landscaping project located alongside a state right-of-way in the town limits.
To promote KAB's mission, coffee and juice has been provided by KAB to participants for the annual "Shoot for the Stars" event which benefits the Alex Betzhold Memorial Foundation. The 2016 fundraiser is set for Saturday, May 14, at 8 a.m. at Argyle High School.
At the Bicycle Rally, bicycles are collected to be recycled and restored in partnership with the Church of Christ in Denton. These are given to the homeless and others in need for transportation to help them find jobs.
The new non-profit status will also increase potential fundraising opportunities and continuing sponsorships from business, organizations and groups.
"We have also learned that more organizations can help now that we are an official non-profit and we are very excited that this has allowed us to open more doors and allow others to support our mission of keeping Argyle beautiful," said Cottle.
Many organizations and groups help KAB through partnerships and alliances, including: Town of Argyle; Republic Services; Argyle High School/Middle School; Hilltop Elementary; Boy Scout Troop 192; Girl Scout Troop 142; Argyle United Methodist Church; First Baptist Church of Argyle; Cross Timbers Church; The Well Church; Argyle Lions Club; Young Men's Service League; UNT students from the Leadership School; and, many citizens along with their families.
KAB meets the second Monday of each month at 5:30 p.m., in the community room at Argyle Town Hall. Those interested in sponsorships or wanting to help, can contact KAB at: P.O. Box 456, Argyle, TX 76226; www.keepargylebeautiful.com, or on Facebook.