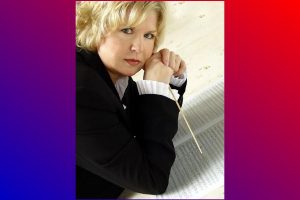 Kathy Johnson has earned a name for the Argyle High School Band and herself in the 10-years she has been the Director of Bands at Argyle High School.
Johnson's eye for perfection, expectation for high standards and strength in leadership has led her to mold a high school band into an award winning state title band year-after-year.
While under her direction, the AHS Band has earned four State Marching Championship titles; held for eight years. The concert equivalent of that is the Texas Music Educators Honor Band; a title the band has held once. The National/International concert equivalent of that is performing at the Midwest International Band and Orchestra Clinic, and they have also done that once.
"The honors we have earned are simply a byproduct of a high standard of performance," said Johnson.
She started her career after attending the internationally renowned University of North Texas School of Music; earning both her Bachelor of Music and Masters of Music Education Degrees.
"How do I put into words the goosebumps you get when a perfectly shaped phrase is executed or when you sense the audience holding their collective breath after a soft, beautiful passage of music is complete," said Johnson.
It is apparent that Johnson's love for learning is reflected in her student's desires to excel, the Argyle High School Bands achievements and its high standards.
When asked about her philosophy of teaching, she said her goal is to create lifelong lovers of music and the arts; working to instill an uncompromising work ethic in her students, as well as strong moral character. She also stated that the most rewarding part of it all is the journey.
Johnson was recently elected to the prestigious American Bandmasters Association (ABA). Membership in this organization is by invitation only and recognizes the significant accomplishments and contributions of its members to the advancement of the Wind Ensemble and its literature.
This honor reflects the significance of Johnson's career, as well the quality of the band at Argyle High School.
Throughout her career she has had the honor of being a part of many prestigious organizations and groups, including the following: The Texas Bandmasters Association (Region Representative); Texas Music Educators Association; the honorary music fraternity Phi Beta Mu, she serves on the board representing small schools; the Association of Small School Bands; Women Band Directors International; the Texas Music Adjudicators Association; and, she is a founding member of the Dallas Winds, a professional Wind Ensemble.
"To be a part of the musical growth of a student is indescribable." said Johnson.