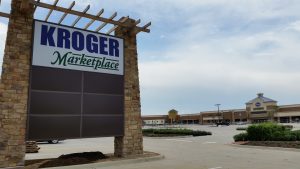 Lantana had 3,277 occupied homes as of Feb. 29 with an estimated population of 10,650. There were 17 new home sales recorded in January, with the average new home selling for $407,931 or $128.97 per square foot.
Dickey's Barbecue Pit opened on February 11 in the strip center at FM 407 and McMakin. Joining them this spring will be Dominos, Subway, Oak Creek Family Dentist and a Starbucks with a drive through.
Other new businesses coming to Lantana Town Center include Hollywood Feed between Kroger and Marble Slab Creamery–opening March 12–and MedSpring Urgent Care at the east end of the shopping center next to Supercuts.
Imagery In Motion Dance is expected to open their doors late this month next to Anytime Fitness at the northeast corner of Simmons and FM 407. Their new space will have four dance studios and will house both their competitive teams and recreational dancers.
The Barrington Addition located at the north end of Lantana Trail adjacent to the roundabout is scheduled to be completed by June. The first phase will consist of 119 lots and Highland Homes will be one of the homebuilders. There will be a combination of 50-foot and 60-foot lots.
Construction is scheduled to be completed in July on the 90 lot Reata subdivision north of Tanner Parkway adjacent to golf hole 16. Highland Homes and Standard Pacific will be building in Reata.
LionsGate Homes is the builder in the 52 lot Garner West subdivision adjacent to Fairlin.
The traffic signal at the intersection of Branch Crossing and FM 407 is expected to be installed by the end of this month.
TxDOT is installing additional landscaping along the FM 407 right-of-ways next to Lantana. Crews are currently installing the irrigation system.