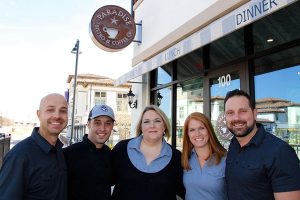 More activity is happening at Lakeside DFW in south Flower Mound as Paradise Bistro & Coffee Co. and Urban Vybe recently opened their doors.
Paradise Bistro, a locally-owned restaurant, has been a big hit so far and offers options from soups, sandwiches, and salads, to brunch and dinner.
Urban Vybe is described as part yoga, part Pilates, part Barre, part cycle, part full-body conditioning with the feel of a personal training session.
In February, the Town of Flower Mound issued building permits for Giant Bicycles, women's apparel and accessories stores Hello Daffodil and Briesley's Boutique, flower and gift shop Bloom-A-Round, and for the Starbucks that will occupy one of the pad site buildings currently under construction in front of Moviehouse & Eatery.
Giant Bicycles will occupy 3,500 square-feet near the intersection of Lakeside Parkway and Surrey Lane. Giant is the leading performance bike manufacturer in the world and this will be their first store in Dallas/Fort Worth.
"The tenant mix at Lakeside DFW is a tremendous asset to the entire Lakeside Business District," said Mark Wood, economic development director for Flower Mound.
The additions will bring the number of retailers in Lakeside to 19.
Only six retail spaces remain unfilled in Phase I of The Shops at Lakeside. Construction on Phase II is expected to begin by midyear.