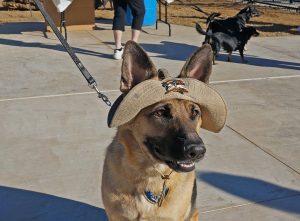 UPDATE: Due to the heavy rain, this event will be moved to March 19th from 9-11 at the Hound Mound. Remember – you can always register anytime at Flower Mound Animal Services or the Flower Mound Police Department. You can also email a copy of your rabies proof at [email protected] and they can mail you out the new 2016 Registration Tag. Registration is always free.
Flower Mound pet owners are encouraged to stop by the Hound Mound at Heritage Park this Saturday, March 19, for a free pet registration event.
Animal Services staff will be on site from 9 a.m. until 11 a.m. handing out registration tags to owners who provide proof of rabies vaccination. This can be in the form of a certificate, or valid receipt from a licensed veterinarian.
Every cat and dog in the Town of Flower Mound is required to be registered every year, so feel free to bring all proof of rabies vaccination for pets that are not present, like the family cat.
If you are unable to make this event, pet registration can be completed at the Police Department, the Animal Adoption Center, and at various participating Flower Mound veterinarian offices.
The Hound Mound at Heritage Park is located at 1202 Garden Ridge Blvd.