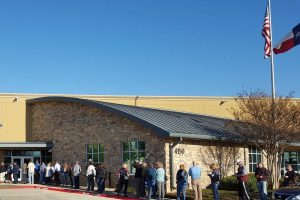 Super Tuesday is almost upon us, and if you have not already cast your ballot, this is your last chance.
Expect long lines at the polls, if early voting was any indication.
56,120 Denton County residents voted early this year, more than double the number of early voters in any prior election.
The primary election will determine which candidates will appear on the ballot as the nominees from the Republican and Democrat parties in the November general election. Since most of the local races have no Democratic candidates, the primary is a winner-take-all.
Voters may vote in either the Republican or Democratic primaries, but not both.
Besides the presidential race, the Republican ballot is chock full of state and local races, including a congressional seat, sheriff, justices and judges.
Polls will be open from 7 a.m. to 7 p.m. on Tuesday. Voters must cast their ballots in the precinct where they are registered to vote. There are different polling locations for Republican and Democratic races.
Voters will need to bring photo ID–such as a driver's license, CHL, military ID or passport–to the polls.
Republican Election Day Locations (Click Here)
Democratic Election Day Locations (Click Here)
Sample Ballot (Click Here)
Meet the State Candidates (Click Here)
Meet the Local Candidates (Click Here)